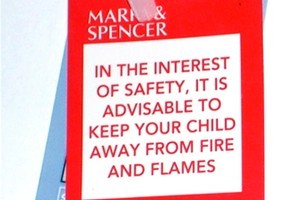 Thumbing through a rack of clothes the other day, I pulled out a jacket and held it up for a better look.
"Shopping for jackets today?" asked a hovering sales assistant.
Actually, I was hunting for Moroccan tea cosies but I kept that to myself. Same thing at the next shop.
"Doing some shopping today?" asked the sales woman as I browsed, flummoxed as to whether I looked shopping-y enough.
Was this her way of checking she was at work and not an aquarium? Are retailers that desperate for our money or have I stumbled upon a new tautologous sales technique?
It's a bit like an answerphone that says, "I'm currently not here right now but please do leave a message. Or, alternatively, you can call my mobile."
Right now, I am currently eating currants at the moment. Why sap yourself of the energy it takes to say "please" and "do"? "Do" you enjoy the sound of your own voice so much that the "or" must be followed by an extra five syllables? This stuff makes the day hard.
It's tempting to leave the following message: "Hi, it's customer 452,907, you know me as the person who you just sent a bill to for $516. I live in an A-frame house made of timber. We've never met and that's fine but I'd like to talk to you about this bill, which is a bill for car insurance because that's what your company does - car insurance. I think I've been overcharged, though, because I don't actually own a car." Beep beep beep ...
Stating the obvious is New Zealand's favourite past time, a concern far more pressing than whether or not a cursed movie about a homebody called Bilbo is going to be made here. So, let's state the obvious. A group of actors are drawing attention to themselves. This is what actors do. (How many times do we have to tell you Ms Ward-Lealand, you're too tall to play a hobbit.)
If I may continue to S the O, saying goodbye to this multi-million-dollar production that would've provided thousands of jobs and opportunities to hardworking Kiwis, not to mention cement our reputation as a go-to for big-budget films, is no bad thing.
It means less one-tracked tourists wandering around Matamata with rings in their eyes. It means protecting the egos of creatives who once again would have had to play second fiddle to Sir Peter Jackson, Sir Ian McKellen and Cate Blanchett. Anyway, I'm racist towards hobbits. They don't look or sound like New Zealanders.
If you want a genuine New Zealander, hit the shops. Just don't buy anything. Someone once told me they used to work in retail so they're always nice to people in shops because they know how awful customers can be. I did, too, but I find it's the opposite - I know what they're up to when they say things like, "Wow, I think that looks amazing on you!"
Yeah well, you're only human.
These days there are few sales people around who don't drive me crazy with their false familiarity, their desire to talk about the fact that this is a shop and I am shopping. The skilled ones deserve a knighthood.
Then there are those who go a step too far. Recently at a Newmarket shop that I've found tends towards rather pushy sales people, the assistant insisted I go a size smaller. I got the dress on fine; it was getting off that was the problem - so much so I had no choice but to ask for help from within the recesses of the stifling fabric.
I'm sure it looked amusing, a headless hobbit in a straitjacket, changing room door hanging open so all of Newmarket could see, which is probably why she laughed as she yanked it skyward, but I wasn't joining in because I was getting carpet burn on my armpits.
"It's too small for you!" she said, shedding great light on the conundrum.
Later, with my normal clothes back on yet stripped of dignity, she popped her head back in the changing room.
"So do you think you'll take it?"
No need to state the obvious.