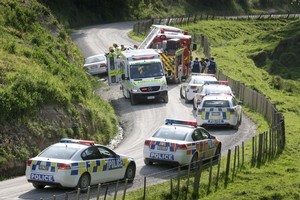 A woman told yesterday how a blood-soaked teenager screamed for help at her front door, as two of his friends lay dead in a car wreck nearby.
The Waikato double fatality - in which police believe speed and alcohol were factors - helped to push the Labour Weekend road toll to six by last night and left officers despairing.
Police had hoped for a fatality-free holiday weekend.
Jeanette Preston-Fowlie, of Rotowaro Rd, about 6km west of Huntly, woke to the sound of a loud noise just after 1am yesterday.
She went back to sleep, but was woken again about 30 minutes later by the sound of banging on the side of her house.
"This young guy ended up here. He was yelling and screaming, 'Everyone's dead, call 911, call 911'.
"I could see he had blood on his face - there was a cut - but I could see all this blood down his side. I knew it was someone else's.
"He collapsed and started fitting. We had him inside and down on the floor."
Mrs Preston-Fowlie said the teenager's state was horrifying. "I've only had three hours of sleep. You can't sleep after that."
The youth - who she thought was about 17 or 18 - is believed to have been the driver of a vehicle that failed to take a slight bend and hit a power pole. Two passengers - a male and a female - were killed.
The road policing manager for the Waikato, Inspector Leo Tooman, said the accident "appears to have been preventable and is a bitter blow to our staff trying to maintain a highly visible presence as we work to keep the holiday road toll down".
"It appears speed and alcohol were factors in the crash but we won't be able to confirm this for several days."
Emergency services were called to the scene about 1.45am. But investigators believe the crash happened earlier, as the area had a power cut about 1.15am.
Mr Tooman said a fourth person, who had been a passenger in the car but was dropped off in Huntly before the accident, was assisting the police with their investigation.
Evidence of the crash was visible yesterday morning, with skid marks veering to the left on the right-hand curve.
The two victims were among four people killed on roads yesterday and the six in total who died between the start of the holiday weekend at 4pm on Friday and late last night.
Yesterday afternoon, a 74-year-old woman died and a 72-year-old male driver was seriously injured when two cars collided on Kaikokopu Road, 10km north of Wanganui.
Five people in the other car suffered minor to moderate injuries. Police said the crash happened on a gravel road.
Also yesterday, a truck driver died in a truck crash near Kaikoura about 8.30am. The accident happened on State Highway 1 near the Conway River Bridge.
And about 9 last night, a motorist was seriously injured when a vehicle hit parked cars in Kohimarama Rd, Auckland, and rolled.
The sole occupant was cut from the vehicle and taken to Auckland City Hospital.
On Saturday, one person died in a two-car crash on State Highway 93 about 15km from Mataura in Southland, and on Friday another person was killed in Hawkes Bay.
Last year, eight people died on the roads during the full Labour Weekend period. Over Queen's Birthday Weekend this year, only one person died.
National police roading manager Superintendent Paula Rose said yesterday that she was saddened by the weekend's deaths, and police were making every effort to ensure the toll did not go higher.
"We haven't given up, we're still throwing everything at it, but we need every driver, every passenger, every road-user, to be thinking about their driving."
Despite the fatalities, Ms Rose said police had noticed positive driving behaviour, and although drink-drive numbers were not yet available, there had been a 10 per cent reduction in total crashes and an 11 per cent decrease in motorists reporting other unsafe driving.
Police had also had good feedback from the public on the lower tolerance for people exceeding the speed limits.
Motorists are being ticketed if they are caught driving at more than 4km/h above the limit, rather than the usual 10km/h.
The holiday period ends at 6am tomorrow.
Getting home safely today
* Plan your journeys well in advance as much as possible.
* Drive with patience and avoid taking chances when turning or overtaking.
* Drive with courtesy to keep traffic flowing smoothly.
* Take regular breaks to avoid driver fatigue.
- additional reporting: NZPA