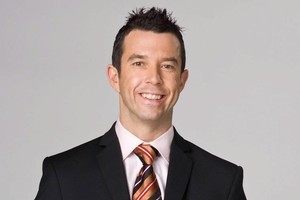 Tony Veitch was sent home from Radio Sport this week after becoming involved in what is understood to have been a heated argument with a female staff member - just one week after it was announced he would be rehired for his old job.
Veitch and the woman were meeting management and were sent home to cool off after the altercation.
A station spokesman said a recent media focus on tensions in the Radio Sport newsroom was unhelpful for Veitch who was trying to make a comeback after a couple of stressful years following his attack on a former partner being revealed.
The Herald on Sunday last week reported that producers at the station were refusing to work with Veitch when he makes his fulltime return next year.
That story had ramifications this week. Drive-time host Matt Gunn was dropped after being accused of leaking details to the paper.
Gunn - who had already resigned from his job and was due to work until the end of the year - would not comment but confirmed he was no longer with The Radio Network.
The Herald on Sunday has a policy of not naming its sources.
Radio Sport and Newstalk ZB operations manager Peter Everatt said he could not comment on the Gunn departure or the subsequent Veitch incident.
However, a number of sources have spoken out about the tense atmosphere within Radio Sport, all of whom spoke on the condition of anonymity.
"As far as I'm aware Tony was sent home to think about his attitude [after the argument with a staff member]," said one.
Another said Veitch was on edge about being back in the public glare.
"A member of management sat two people in a room to discuss problems or come to a conclusion about how they could work together in the future.
"Tony abused that person to a point where they went home and Tony also went home."
The incident happened on Thursday and Veitch was not at work on Friday.
Last week, it was announced that Veitch was to return to take his old position as host of the station's breakfast show - a job he held before details of the assault on his former partner became public.
Sources last week claimed Veitch was overheard by staff saying he had been offered $135,000 to have his old job back - down from the $170,000 he was paid at his peak.
Veitch would not talk to the Herald on Sunday when approached yesterday.