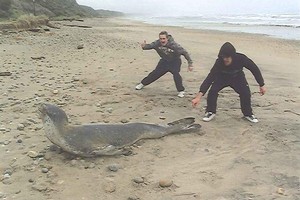 This is Harley David McKenzie - a repeat offender when it comes to horrific cruelty to defenceless animals.
The 20-year-old Tuatapere freezing worker is behind bars awaiting sentencing for his part in a cruel attack on a leopard seal in October last year.
McKenzie, alongside shearers Michael Matthews, 22, and Phillip Horrell, 23, were all charged with taking and injuring the seal after pictures and a video of them harming it were posted on Horrell's Facebook page.
The attack on the seal, a protected species, came only three months after McKenzie was convicted of stealing and wilfully ill-treating a pig.
He and another man stole the pig and cut off its ears and tail after pig dogs attacked it. They then let it go in a forest.
The court was told that the men took the pig, which had to be treated with penicillin after its wounds became infested with maggots, "as a joke".
McKenzie's actions were described as "atrocious" and he was sentenced to 250 hours' community work and ordered to pay $33 reparation.
In 2008, McKenzie and five others were ordered to pay reparation after shooting three dairy cows.
On October 29 last year, the Department of Conservation received a complaint that a group of people had filmed an attack on a seal at Te Waewae Bay.
The next day DoC staff found the seal, which had swelling to its left eye. Soon after they located images of the attack on Horrell's Facebook page in an album marked "good times".
Horrell wrote alongside one photo: "well mister harly McKenzie ur the reason the poor we things eye was bleeding".
Another friend questioned why McKenzie didn't put the seal out of its misery.
McKenzie wrote: "yeh that was def on our mind would get in a heap of sh ... t for it tho..."
Police searched Horrell's house and seized photos and a video of the attack, showing rocks being thrown at the seal.
"The leopard seal is obviously in distress throughout the entire incident and during one part of the attack, appears to lose consciousness," the police summary of facts said.
Matthews was fined $7000 for his part in the attack and Horrell $5000.
Horrell said this week his part in the incident had been blown out of proportion and he did not think he had done anything wrong.
"We had no intention of killing it. All I was doing was filming. What's the harm in filming?" he said.
"I did try and stop them, but not for the seal's sake. It was for my own sake."
He said the seal was large enough to defend itself if it needed to. He did not see any harm in throwing rocks at the seal or dragging it as long as there was no intention of killing it.
When asked if he was an animal abuser, he answered: "absolutely not".
SPCA chief executive Robyn Kippenberger said the case was particularly disturbing.
"It's an awful thing. It's disturbing because it's a group of young men, one already a serial offender," she said.