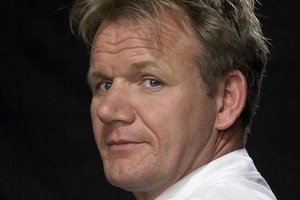 He may have the foulest mouth on TV - but it's going to take more than bluster for UK celebrity chef Gordon Ramsay to convince anyone he is sorry for aborting two charity dinners.
Ramsey's company yesterday went on the offence, saying Kiwi organisers Duco Events "did not make it clear at any point" that the dinners scheduled for Auckland and Christchurch next week were for the benefit of a sick nine-year-old girl. He pledged to make a donation towards the medical treatment of Napier girl Matisse Reid.
However, Duco Events hit back, alleging:
* It was made clear to Ramsay as far back as June a charity was involved.
* Ramsay was in Dubai this weekend for a speaking engagement, even though he pulled out of the New Zealand visit next week because of alleged ructions in his company.
* He offered up an executive chef to take his place.
* Duco said they would take legal action through the London courts to recoup the money they expected to lose through the late cancellation. They said they had the financial backing of property tycoon Sir Robert Jones to fight Ramsay.
David Higgins, of Duco, said yesterday he had barely slept in several days due to the stress Ramsay had caused.
"His behaviour is appalling. He's acted callously."
Duco faced a six-figure loss because of the refunds it would have to make to the 1500 ticket holders, non-refundable deposits it would lose, and expenses that suppliers could not avoid so close to the event.
Insurance didn't cover the situation where a star walked away from his contract.
All ticket holders would be refunded and those who were looking for compensation for flights or accommodation booked for the Ramsay shows would be dealt with "on a case by case basis".
The fact Ramsay was in Dubai over the weekend " adds insult to the injury".
The Herald on Sunday has seen the contract Ramsay's agents signed which indicates it was to be a charity event, though it doesn't say who the beneficiary charity would be. An email trail between Ramsay and a UK celebrity speaker company also refers to a charity event.
Matisse Reid suffers from an intestinal disorder and requires costly treatment in the US.