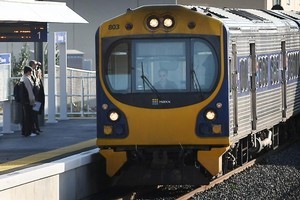 Passenger trains will cover only small sections of Auckland's rail network through Labour Weekend as KiwiRail cracks on with its $500 million electrification project and catches up on maintenance.
The Auckland Regional Transport Authority is laying on replacement buses, including free travel for ticket-holders to the ITM Cup rugby match between Auckland and Tasman at Eden Park on Sunday .
Although trains will still run from Newmarket past the park on the western line, the Britomart-Newmarket and Otahuhu-Papakura sections of the southern line will be closed throughout the long weekend.
Passenger trains will not run on the eastern line via Glen Innes from tomorrow until Tuesday morning. But a free shuttle bus service between Britomart and Kingsland will be available to Eden Park ticket-holders.
One of KiwiRail's main weekend projects will be the demolition of a bridge over the railway line in Jutland Rd, Manurewa, which will remain closed until November 17 while a replacement structure is built.
That is one of 24 locations where bridges are being replaced or railway tracks lowered to provide clearance for overhead supply lines for electric trains arriving in 2013.
Work has started on five summer bridge replacement projects in South Auckland, including on two busy roads in Papatoetoe. That is causing delays along St Georges St near the centre of Papatoetoe, which will have only two of its three lanes available until early December, and also on the short Bridge St section of Puhinui Rd, where vehicles will be restricted to one lane controlled by stop-go signs until November 8.
Once piles are complete, both roads will be fully re-opened until Boxing Day, when they will be closed for three weeks while new bridges are built.
Browns Rd in Manurewa - will face about three weeks of lane closures from next month as piles are driven for a similar bridge replacement project.
The Transport Agency is also closing eastbound lanes of Wiri Station Rd between Lambie Drive and Davies Ave to start building a short link to another interchange of the new motorway extension through Manukau. The road will be closed from the end of next week, until early November, when the link opens just north of the motorway between Lambie Drive and what will be renamed Manukau Station Rd.
KiwiRail spokeswoman Brooke Donovan said it was doing what it could to work in with the motorway project, which was why it was not closing roads until after Christmas, when the Puhinui interchange would be available to airport traffic.
But if the piling work was not done now, the bridges could not be built this summer, meaning a year-long delay.
Roads will be closed from Boxing Day to allow bridges to be replaced with slimmer structures at Browns Rd, Station Rd in Manurewa and Clevedon Rd in Papakura. Railway tracks will be lowered under Church St East in Southdown and through the Purewa Tunnel in St Johns. The summer construction programme will cost KiwiRail about $31 million.
For more details of Labour Weekend rail services and bus replacements, phone 366-6400 or visit maxx.co.nz