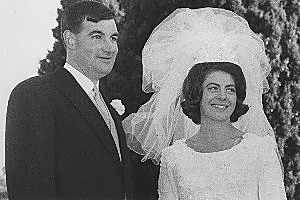 The man wrongfully convicted of murdering Jeanette and Harvey Crewe has welcomed news the police will review the 40-year-old murder case, but is not expecting much to come from it.
Deputy police commissioner Rob Pope said a senior investigator had been appointed to go through the file but stressed they were not re-opening or re-investigating the case.
The officer would "conduct a thorough analysis and assessment" of the Crewe homicide file in an endeavour to answer questions raised by Rochelle Crewe, who was 18 months old when her parents, Harvey and Jeannette, were murdered in their Pukekawa farmhouse south of Auckland in 1970.
Rochelle Crewe broke her silence in the Herald to call for the police to re-open the case 40 years after her parents Jeannette and Harvey Crewe were murdered.
Arthur Allan Thomas was twice convicted of the Crewes' murders but was pardoned in 1979 after serving nine years in prison and no one else has been charged.
A Royal Commission of Inquiry found that police had planted evidence on his property but the Solicitor-General in the 1980s, Paul Neazor, QC, chose not to lay charges against two detectives, Bruce Hutton and Len Johnston, after it was concluded they had planted the evidence - including two .22 rifle cartridges - that wrongly linked Mr Thomas with the murders.
Mr Thomas told NZPA this afternoon's move was a small step but probably in the wrong direction and he was concerned about the police investigating themselves.
They would continue to cover up, he said.
"What we need is an outside investigator to look at who murdered Jeanette and Harvey Crewe and the corruption that took place that put an innocent man behind bars.
"It took 40 years until Rochelle Crewe came up and said do something about it. Forty years they did nothing."
Mr Thomas said he was not expecting too much to come out of the police assessment but pleased they were looking into it.
"It's just a small start but it might be in the wrong direction."
If police wanted to talk to him he had nothing to offer them, he said.
"They might fabricate more evidence against me."
He urged people to read Ian Wishart's book into the Crewe murders. "That's my story."
Wishart last month released his Arthur Allan Thomas: The Inside Story, in which he pointed the finger at Mr Johnston, one of the officers investigating the murders, and that he may have been responsible.
This afternoon's announcement meant "police would now have to read the book [Police Association president] Greg O'Connor would not read", Wishart told NZPA.
He said it was disappointing there was not to be a formal inquiry and police had also not opened an investigation into former Detective Inspector Bruce Hutton. He questioned their commitment to the process.
"It's a small step they have taken but not the worst step they could have taken."
Wishart said he had new information on the case police would now have to look at, including eyewitnesses testimony about detectives that worked on the case.
Since the book had come out more evidence had come forward about "strange goings on" at Pukekawa, Wishart said.
"If they want to talk to me they are welcome. There is a limit to how much I can cooperate, obviously I have to protect my sources and I have witnesses who are highly relevant to a formal inquiry and I don't want them being trampled on, intimidated or harassed at this early stage of the game.
"I'd like to see the police do their job and there's plenty of information in the book and they can put two and two together and work out things for themselves."
However, Mr Pope said the investigator would look at the file and the first priority was to answer questions raised by Ms Crewe about the deaths of her parents, as best they could, given the murders were 40 years ago.
He would not say what the questions were and it was too early to say if police would investigate Wishart's theory that Mr Johnston was responsible, he told Radio NZ.
"Police are in the business of assessing facts and not speculation."
- NZPA