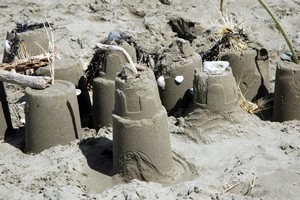 The Act Party went into Parliament yesterday to find out if a Kiwi family could have a picnic on the beach and left with little more than a lesson in how to build a sandcastle.
Act's newest MP, Hillary Calvert, was again determined to push the Government on an amendment to ensure the word "free" is used in the public access clauses of the new foreshore bill.
She asked Attorney-General Christopher Finlayson if this amendment would "allow for mum, dad and the children to go to the beach for a picnic ... and to build a sandcastle" below the high-tide mark without being charged.
Although the amendment in question does not yet exist, Ms Calvert was hopeful of a "yes".
Mr Finlayson instead took it upon himself to provide a health and safety lesson. He said there would be free access for such activities, with or without such an amendment. He added that the foreshore and seabed technically stretched from the mean high tide mark to 12 nautical miles out to sea.
He then claimed to have received advice on building a sandcastle.
"Building sandcastles on the wet part of the beach is generally inadvisable," he solemnly told Parliament. "And I would advise the member not to build sandcastles at all towards the outer limits of the territorial sea."
Ms Calvert pressed on, this time wanting to know if the amendment would also protect surf lifesavers and the Kiwi Kids' Weet-Bix Tryathlon.
Mr Finlayson replied that there was no such amendment and although one might be on its way, it was not needed because the current bill already protected such activities.
Labour's Shane Jones also wanted to know what this mythical amendment which did not yet exist covered.
"Can the minister advise the House whether an Act MP wanting to have a picnic in a wahi tapu [sacred site] would be out to lunch?"
The Speaker declared his question "far too wide of order" much to parliamentarians' disappointment.
The Maori Party's Te Ururoa Flavell asked Mr Finlayson if he believed Ms Calvert was "building a sandcastle on a foundation of quicksand and may disappear at the next election". Again the Speaker intervened and the exchange was over.
What the MPs learned was that an amendment could be coming, but did not yet exist and even when it did exist it would make no difference to children, mums and dads being able to build sandcastles for free.
What they did not learn was how to build a sandcastle: the Speaker also blocked Mr Finlayson's attempt to officially table the advice he had obtained on the matter, titled How to Build a Sandcastle.