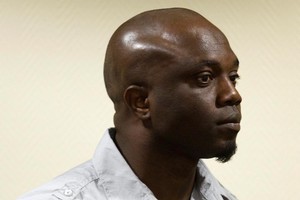 A community mental health provider says it saw nothing to arouse suspicion when it employed a Nigerian fraudster who was using false passports.
Richmond New Zealand employed Hakeem Amoo Ewebiyi from June 8 last year until February 26 and, according to his lawyer, he worked successfully in the rehabilitation of sex offenders.
Ewebiyi was yesterday sentenced in the Christchurch District Court to two years and two months in jail for using two false passports.
Richmond says a police check and reference checks were done when Ewebiyi was hired and there was no history of criminal convictions.
His role was in supporting the intellectually disabled or those with mental health issues.
"There's certainly no information that I have reviewed today that gives me any cause for concern," said chief executive Kath Fox.
"We go into those matters very carefully because we work in a high-risk industry."
Defence lawyer Greg Trainor said his client worked rehabilitating sex offenders and "he seems to have been very good at it".
Judge Jane Farish said Ewebiyi worked in an area that was "extremely difficult and taxing".
Ewebiyi came to New Zealand in 2003 on a false South African passport under a different name and later applied for refugee status, before getting a work permit.
He gave authorities different dates of birth and claimed to have lost the false South African passport, which police later found in a search of his home.
A Nigerian passport he produced in his own name was also found to be false. Pages had been removed and other data transferred into it.
"It was not too difficult for the police document examiner to ascertain that this was in fact a false passport," Judge Farish said.
The judge told Ewebiyi there was a common theme of him blaming others for his crimes. "I can tell you, Mr Ewebiyi, you have brought this situation on yourself."
Since coming to New Zealand, Ewebiyi has married and has a 3-year-old son, though he and his wife have now separated. Without a work permit, he and his family have lived on the support of friends and the Nigerian community.
Immigration NZ head Nigel Bickle said the department became aware Ewebiyi was in the country under a false identity and decided to prosecute because "identity fraud undermines the integrity of the immigration system".