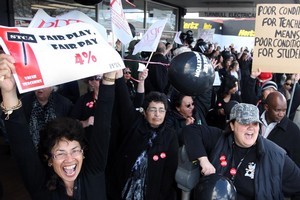 There is no new money to offer teachers a bigger pay increase unless they wanted to burden their students with a future of paying off national debt, says Prime Minister John Key.
Many of the nearly 60,000 Year 9 students stayed home today as secondary school teachers began strike action after rejecting the Ministry of Education's latest pay offer.
Teachers were offered a 0.5 per cent pay increase in the first year, a 1.9 per cent increase in the second year, a one-off payment of $1000 and an additional 3000 middle management allowances worth $1000 each.
That was compared with an earlier offer of no increase in the first year, a 1.8 per cent increase in the second and the one-off payment.
Mr Key said the Government was already borrowing $256 million a week.
"Do the teachers really want us to borrow more than that and place a noose around the neck of young New Zealanders?"
He said there would always be more industrial action under a National government.
"That's just the way unions react, the unions back and fund the Labour Party and so they are always going to be our opponents while we are in Government," he said.
Education Minister Anne Tolley has repeatedly said there was no extra money and "it's not like we can magic money overnight".
Today she called on teachers to return to the bargaining table and said she would not negotiate through the media.
"The police managed to settle, and the nurses managed to settle... the teachers have not been realistic about what the economic circumstances are."
Secondary Principals' Association president Patrick Walsh said that while most parents accepted today's strikes for Year 9s they were "a bit grumpy" about tomorrow's strikes for Year 11 students.
Having the strikes only three weeks out from NCEA exams placed students under unnecessary stress, he said.
"When you're missing five lessons three weeks out from an exam it does put them under stress and it's a day of learning they could have done with."
Some parents of Year 9 students had said they did not have anywhere for their children to go today.
He said that while he understood the reasons behind teacher strikes it would have been his preference not to send Year 11s home as a matter of principle.
Post Primary Teachers Association (PPTA) president Kate Gainsford announced on Monday that teachers had decided to strike after the Government's latest offer fell flat with the PPTA national executive.
She said that after three days of negotiations there had been no substantial shift since the Government's initial offer in June.
Teachers would only return to the bargaining table if the ministry offered more money, removed clawbacks on conditions from the table and offered improvements in areas such as maximum class size, she said.
Education Workforce group manager Fiona McTavish said the ministry was more than ready to sit down at the bargaining table to address PPTA's three priorities and reach a settlement that satisfied all parties.
- NZPA