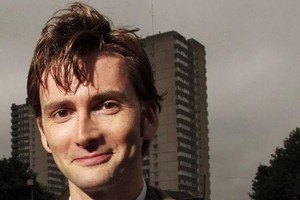 James Nesbittby Kevin RawlinsonAn influx of familiar faces into Middle Earth is expected after the announcement that filming of The Hobbit will finally begin next February, bringing to an end years of delays.
Names touted for major roles are former Cold Feet star James Nesbitt and Irish actor Michael Fassbender, from Quentin Tarantino's Inglourious Basterds.
Former Doctor Who star David Tennant has also been named as likely to appear, and Martin Freeman, who starred in The Office, has been reported as a favourite to land the lead role of Bilbo Baggins.
It is believed that Sir Ian McKellen will reprise the role of Gandalf the Grey and that Andy Serkis will again play Gollum.
However, a distinct lack of women in the original book - which focuses on a group of male dwarfs and Bilbo, has led to suggestions that the film-makers may boost at least one female role for balance.
A spokesman for New Line cinema said that "nothing is finalised", but added that an announcement was expected shortly.
Sir Peter Jackson, who won three Academy Awards for The Return of the King - the final part of his three-part adaptation of The Lord of the Rings - returns to the director's chair.
He had originally hired Guillermo del Toro, but the Mexican pulled out of the project in May after becoming frustrated with the repeated delays.
Jackson's screen adaptation will tell the story across two films, both of which will be shot in 3D. The three studios which will jointly produce the movies - New Line Cinema, Warner Bros and Metro-Goldwyn-Mayer (MGM) - confirmed that initial photography will begin in February 2011. The films are expected to appear in cinemas in December 2012 and 2013 respectively.
The Hobbit, which was published in the 1930s, follows the journey of Bilbo Baggins from The Shire to search for treasure guarded by a dragon named Smaug. It recounts his discovery of The Ring, which would later be inherited by his adopted son Frodo.
The project has been hit by the financial difficulties which have hamstrung MGM. A labour dispute also stands in the way of filming.
- Independent