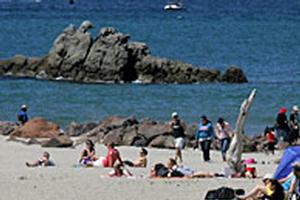 Holidaymakers can expect sunny, dry and calm weather across the country this Labour weekend.
The good weather will also be positive news for police, who will be out in force hoping for a road fatality-free holiday weekend.
WeatherWatch.co.nz said a high pressure system would cross the country starting Friday and last well into next week.
Head weather analyst Philip Duncan said the high could not be better timed.
"It's currently waiting in the wings over eastern Australia and will move our way on Friday. The anticyclone will ensure light winds, mostly sunny skies and warm daytime weather right over New Zealand."
Mr Duncan said the only shower activity forecast is for Southland and Fiordland on Sunday or Monday.
"If that's the worst we can expect then I'm sure most won't be too disappointed with the forecast this weekend".
WeatherWatch.co.nz said that daytime high temperatures across New Zealand would be in the late-teens to low-20s degrees Celsius, while highs in the mid-20s are possible across inland Otago and Canterbury.
The positive weekend forecast could make the roads safer, compared to past Labour weekends which were affected by large southern storms.
Police this holiday have reintroduced the reduced speed tolerance after a huge reduction in road crashes over Queen's Birthday weekend, the lowest in more than 50 years - with only one death.
Police will operate a tolerance to 4km/h per hour over the speed limit, instead of the usual 10km/h, from 4pm on Friday to 6am on Tuesday.
And Automobile Association motoring affairs general manager Mike Noon urged drivers to make sure they are well rested before leaving for the holiday and allow plenty of time for breaks on the way.
"The roads will be busy, people will be driving long distances and there will be plenty of potential distractions."
"The police crackdown on speed will hopefully get people paying extra attention to their driving," he said.
"It would be fantastic if we can get through this busy weekend with no one being killed on our roads."
Police will also be targeting the other known killers: alcohol, and failure to keep left. They will also be on the lookout for slow or inconsiderate drivers.
- NZPA