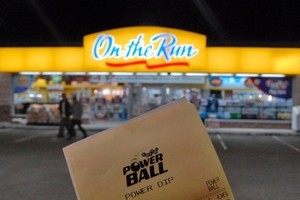 A pig hunting Papakura father who vowed never to return to Wellington made an exception to his rule today when he found out he was Lotto's latest multi-millionaire.
The man, who wishes to remain anonymous, drove from Auckland to Wellington last night to validate his winning $28.7 million Lotto Powerball ticket.
He initially did not think he had won until he double checked the numbers on his ticket yesterday, he said.
He then piled his family into a car at midnight and drove down to Wellington to claim his winnings.
"I don't like flying, and I had a lot to think about, so the drive was a good way to clear my head," he told Lotteries NZ.
"I had only been to Wellington once before, and I went the wrong way down a one way street - so I vowed I wouldn't be back again. However, I made an exception to come down and get my millions."
The family planned to sit down and talk about what to do with the winnings.
"We have been down to our last dollar a couple of times this year, so winning this much money is amazing."
The avid pig hunter, diver and fisher hoped his win would let him to spend more time on his hobbies.
His win is the largest Powerball Lotto win in New Zealand, eclipsing a $22.4 million win in October last year.
- NZPA