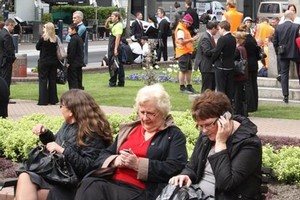 Civil Defence is monitoring the situation in Christchurch after a magnitude 5.0 aftershock hit the city this morning, damaging property but apparently causing no serious injuries.
Residents reported violent shaking lasting between 15 and 20 seconds during the quake, which Geonet said hit at 11.32am, 10km south-west of the city at a depth of 9km.
Civil Defence Communications Manager Vince Cholewa said the quake would have been felt on the ground as a magnitude 7 earthquake.
Geonet has received reports of heavy damage in Beckenham, Ilam and Spreydon, 23 reports rating the aftershock as damaging and a further 156 saying it was slightly damaging.
No confirmed injuries
Civil Defence Regional Manager Jon Mitchell said there had been no confirmed injuries from the quake.
"At this stage there have been very few reports of structural damage, but power outages around the city are being reported, with landline and cell-phones systems intermittently overloaded."
Civil Defence would continue to monitor the situation, he said.
St John Ambulance spokesman Chris Haines said the service had not been called to any quake-related injuries, but that there had been several panic calls following the aftershock.
Police had been called to four quake-related incidents, but had also not received any reports of injuries, Canterbury district commander Superintendent Dave Cliff said.
Canterbury District Health Board said Christchurch Hospital suffered some minor damage, including damage to windows and plaster, but all the key buildings had been checked and found to be structurally sound.
The hospital had switched to its emergency generator for a short time but all services were running.
Evacuations

Power was cut to parts of the CBD, Heathcote and Sockburn for about 15 minutes. About 10,000 customers were affected by the blackout.
Orien Commercial Services General Manager Rob Jamieson said the power supply had been returned normal throughout the city.
"The sharp jolt triggered our safety gear and it was just a straight forward matter of switching power back on manually," he said.
Phone lines were also affected by the quake. Telecom reported the 111 service was operational, although some calls were being diverted to Wellington.
However, problems caused by overloading affected both landlines and mobile networks in the region.
A number of businesses in the central city were also evacuated and inspectors have been checking buildings for damage.
Several bricks had come down from a building on the intersection of Peterborough St and Montreal St in the city.
Council workers have also been checking reports of liquefaction in the suburb of Hoon Hay.
Police said Westfield Riccarton was evacuated after reports some roofing had collapsed. A spokesman for the mall later told National Radio that no-one had been hurt and there was no major structural damage to the property.
Southern Fire Communications Shift Manager Karl Patterson says firefighters attended a dozen call-outs after the quake but have so far only found one unstable chimney.
A number of private fire alarms had been set off by the quake, though there were no reports of fires.
Transport
Lyttelton Tunnel - the main road linking Christchurch to the port - has been temporarily closed while it is inspected for damage.
Flights into Christchurch International Airport were delayed immediately following the quake, with one flight from Auckland circling the airport as engineers checked runway for cracks. About 250 workers were evacuated from a construction site at the airport.
The runway and terminal were given full clearance and were operating as normal about an hour after the quake.
Around 250 workers were also evacuated from the construction site of the airport's new terminal.
'Like a wave'
Herald reporter Jarrod Booker said the earthquake was like a wave travelling through the road.
He said there was initial concern for workers in the Manchester Courts building, which is being prepared for demolition due to damage from the September 4 magnitude 7.1 earthquake.
One resident emailed nzherald.co.nz saying: "Just had a huge aftershock in chch, furniture fell over, things fell off walls and apparently power is out in some areas."
WeatherWatch.co.nz weather analyst Richard Green said the aftershock was the most disturbing one there had been since September 4.
"It was violent and the power has gone off," he said. "My wife who works in the city centre says they have been evacuated and people are clearly scared."
Residents respond on Twitter
Residents took to Twitter to talk about the aftershock, with some initially estimating it was up to 6.0 magnitude on the Richter scale.
"That is the first time the car has danced round the road! Big aftershock... Enough, now time for cafe!," said @AnnieCameron NZ.
"Another big aftershock - people here are a bit shaken. Probably around 6.0 - probably the largest aftershock we should get though...," said @IceNine.
"My office shook big time and cars were jumping in the carpark," Lee Retimana tweeted.
"I'm a little scared."
Donna Robertson described the sounds coming from her house: "My guy and baby were outside, heard it coming and listened to the house creak and the roof squeak, and the water tank next door slosh."
Like many others, she reported no landline or mobile phone coverage. However phone services have since resumed with therhys tweeting: "Power's back on, phone lines up and running & adrenaline still pumping. First big #eqnz in the office."
five15design wrote: "Poor mum & dad were in Countdown when the EQNZ hit, stuff falling down all around them, poor buggers were in the wine section."
The large jolt was followed by a smaller 3.7 quake at 11.41am, 10km east of Diamond Harbour at a depth of 5km.
A 3.8 magnitude aftershock also struck at 1.24pm, 20km south-west of Christchurch at a depth of 5km, according to GNS Science.
- NEWSTALK ZB and NZHERALD STAFF and NZPA