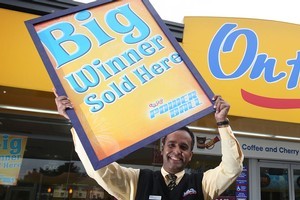 The biggest Lotto Powerball prize in NZ Lotteries' history was claimed today.
The winning ticket was sold at Mobil Papakura and is worth a total of $28,710,403, with $28,309,882 million from Powerball First Division and $400,521 from Lotto First Division.
NZ Lotteries spokeswomen Karen Jones said the winning ticket had not yet been presented at a Lotto outlet, but a caller had given them enough information for them to be confident they had the winning ticket.
Until the ticket is presented no information on the winner could be released, she said.
"They are very shocked, but obviously very happy," Ms Jones said.
Last night, the petrol station where the winning ticket was bought was buzzing as customers checked and double-checked their tickets.
One of them, Jacqui Everett, was briefly elated after being told she was a winner.
However, she left the store with a shrug after finding her prize money was $81.
Others lamented the fact that they had not bought their ticket from their local petrol station last week.
Gavin Findlay, 45, said he had bought tickets at Mobil Papakura nearly every week for 3 years.
"But I didn't get one this week. I'm kicking myself now."
Manager Mohammed Faruk said he had a five-fold increase in traffic yesterday, and he was working in the hope that he would meet the winner.
"I am hoping that it is one of our regulars who has taken the prize, but I will be happy for whoever it is."
He was highly unlikely to get his wish.
No major prize winner has ever returned to the point of purchase to cash in their ticket.
Only one in 10 big winners told anyone beyond their family about their fortune.
The Powerball winner would claim enough prize money to buy 82 average-sized houses in the south Auckland town.
The win eclipsed the previous biggest Lotto Powerball prize of $22.4 million which was won last October by a buyer in Manukau.
More than 1.7 million tickets were bought for the draw, compared with around 700,000 in an average week.