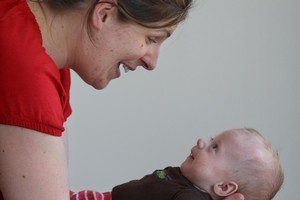 An Auckland woman who gave birth to a baby boy 11 weeks ago in an emergency caesarean section says she feels judged by other new mums who were able to deliver naturally.
Lindsey Hurley has from a medical condition called vasovagal syncope which can cause her to lose consciousness when her body is placed under stress.
When she found she was pregnant with her son Ernest (Ernie), she sought the help of a specialist to plan an elective caesarean to reduce the risks from her condition.
At 36 weeks' gestation her specialist noticed Ernie had stopped growing and said an emergency caesarean would be needed to get him out safely.
She had not felt pressured by her specialist.
"He told me not to decide straight away, to go away and think about it and get back to him."
She did feel relieved to be able to classify her procedure as a medical emergency.
"It's probably just me being hard on myself but I do find it easier to talk to people about it when I say that despite having an elective c-section booked, in the end I had no choice.
"Some people do judge you and you feel compelled to say you're sorry. But for what? Ernie's a healthy, beautiful baby boy."
Helen Jacobs, who had all three of her children in home births, said she did not judge women who had caesarean section surgery, but thought women should be better educated about the risks.
"Of course labour is hard, but if you're a healthy woman there is no reason to fear it.
"Why do we all of a sudden think labour has become any different from the millions of women who did it before us. I think c-sections should only be used where there is a genuine emergency.
"Obviously it's their choice. But if women feel like there is judgment out there, maybe it's because they themselves think natural birth is best for mum and for bubs."