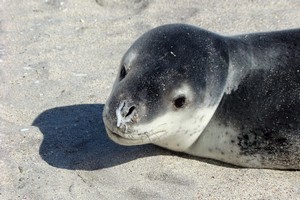 A man could face jail after throwing rocks at a leopard seal then dragging it down the beach to pose for Facebook photos.
Meat worker Harley David McKenzie, 20, was caught after the photos were posted on the internet social network.
Last year, he admitted wilfully mistreating an animal by cutting the ears and tail off a pig as a "joke" - an act labelled "atrocious" by the sentencing judge. A year earlier, he and five others were ordered to pay reparation after shooting three dairy cows.
Two other Southland men have been fined thousands of dollars for their part in the attack.
The photos of the attack were spotted on Facebook by Department of Conservation staff.
McKenzie appeared in Invercargill District Court on Friday, alongside Michael William Mathews, 23, and Phillip Ray Horrell, 24. They were charged with taking a leopard seal and injuring it. The attack happened at Te Waewae Bay, west of Invercargill, in October last year.
Judge Jane Farish described their actions as "barbaric". Horrell was fined $5000 and Mathews was fined $7000. McKenzie was remanded to November 12 for sentence.
In 2005 All Black Andrew Hore and two friends shot dead a fur seal in Otago. Hore was fined $2500 and granted diversion on a firearms charge.