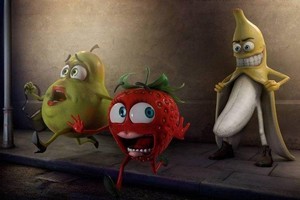 Lewd bananas good; erotic melons bad.
That's the word from the Advertising Standards Authority, which was asked to rule on the use of fruit in two advertisements.
The authority okayed an advertisement depicting a phallic banana terrorising an apple and a pear, in which the half-peeled banana flashed other fruit.
Complaints were made about the billboard and bus ticket ads for Habitual Fix, an Auckland fresh fruit and juice company, saying the two other fruit were clearly female and "frightened".
The authority ruled: "In the majority view the characters were fruit ... and younger children that may see the ad were unlikely to interpret the image as sexual, the banana as phallic, the other fruit as female or the scene being representative of a type of sexual assault."
However, a minority of authority members disagreed. It is understood at least one of the complainants intends to appeal the ruling.
The authority did uphold a complaint against a mobile billboard displaying a naked woman fingering an open melon in front of her pelvic area.
The image was accompanied by the text "entrance this way".
The ad promoting the Erotica Expo was produced by Eden Digital, the company formerly owned by porn king Steve Crow.
The billboard was towed around Auckland before the expo. The authority said in its decision: "It was clear that by using the naked female body part and the strategically positioned fruit and finger, the advertiser sought to provoke maximum outrage and receive maximum exposure."