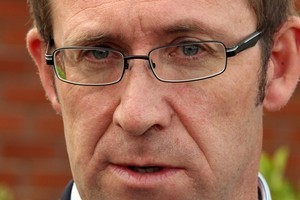 Labour president Andrew Little has called for a fresh debate about republicanism following a speech at the party's conference by former Wallaby Peter Fitzsimons, an outspoken advocate of ditching the monarchy.
Mr Little said that he backed Fitzsimons' views, and it was time for New Zealand to engage in the debate.
"It's a cop-out to say, 'Yes, I'm a republican, but it's not time', that it be left up to somebody else.
"That's a failure of leadership, in my view," said Mr Little.
He was not saying it was something that had to be done tomorrow.
"But it is saying we are committed to making a move and we do it in a courteous and respectful way."
It was an issue that ought to be actively debated in terms of what constitutional arrangements might be set up, and negotiating with the UK over what a transition might look like.
Fitzsimons was applauded last night when he spoke of republicanism and changing the flag for Australia. He did not think the decision should be put on hold until the Queen died.
"As a sovereign nation we shouldn't be deciding our politics on the health of an elderly English woman. She's a good woman, no doubt about it. But we should be carving out our independent way."
What happened to the New Zealand flag was none of his business "but I passionately want to remove the Union Jack off the Australian flag," he said.
Mr Little said Fitzsimons had been invited to speak as someone who could "take us out of ourselves. We wanted somebody who would be entertaining and push a few boundaries."
The conference comes less than a week after Te Atatu MP Chris Carter was expelled by the party's New Zealand Council, though it is unlikely to get a mention from the podium.
Mr Little said he met all the party's affiliated groups yesterday and the Carter issue was not raised by any except the Rainbow (gay) sector group.
It had been constructive in offering to support the local organisation in its transition to a new candidate - yet to be selected.
The president said his speech today would concentrate on bigger issues, like how a Labour victory was possible in next year's election.
Both he and Labour leader Phil Goff, in his address tomorrow, are expected to stress the party's willingness to go in new policy directions.
"We have a more open approach to looking at new ideas," Mr Little said. Few new policies have been unveiled yet but Mr Goff yesterday told the Police Association conference in Wellington that Labour wanted to work with organisations and "sweat the small stuff".
The party was willing to look at tougher sentences, including jail in serious cases, for people who failed to stop when pursued by police, and at dropping the requirement to have blood tests for drink-driving offences, which tied officers up for hours after a failed test.
Do you think New Zealand should become a republic?
Send your views to newsdesk@nzherald.co.nz