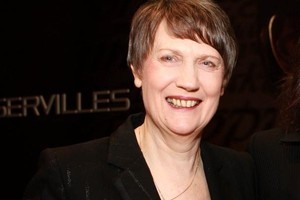 Sunday
Last week's publication of Forbes magazine's annual list of the 100 most powerful women in the world had us pondering why Helen Clark was dropped from the roll call this year. She has been relegated despite holding the No 3 job at the UN as head of the development programme. Furthermore, she is now being mentioned seriously as a possible successor to Secretary-General Ban Ki-moon. Clark first appeared on the Forbes list in 2004 as prime minister, rising as high as No 20 in 2006 before sliding to No 61 last year. Her being ignored this year can hardly be a case of "out of sight out of mind". The magazine's headquarters are in New York's Greenwich Village - just a short subway ride from the UN complex.
Tuesday
During his (very long) speech at a parliamentary reception in his honour, former prime minister Jim Bolger has a grump at Air New Zealand. It all springs from his being in Europe as chairman of NZ Post, with another board member, Michael Cullen. It seems the pair showed up at Heathrow to catch a flight home, only to be blocked from boarding the plane because boarding time had passed.
This meant the pair had to spend an extra day in London. Those in the audience who know Bolger had a quiet chuckle to themselves. During his days as prime minister, he frequently turned up late at airports. While a flight might be delayed to accommodate a prime minister, chairmanship of a state-owned enterprise obviously does not hold the same sway.
Thursday
Maori Party firebrand Hone Harawira breaks his silence on the Paul Henry affair. His comment? "There is no truth to to the rumour that I have been approached to replace Paul Henry as host of TVNZ's flagship Breakfast show," he jokes. Writing in his weekly newsletter, Harawira admits to quite liking Henry's quirky sense of humour. "But when you cross the line, you gotta be ready to cop the flak that goes with it and, boy, don't I know it." The empathy goes only so far, however. "[The] bugger's been getting away with slaggin' off darkies for years because his superiors like the fact that his rampant racism is good for the ratings!!"
Friday
The Serious Fraud Office is coming out of the shadows. Chief executive Adam Feeley has decided to accelerate efforts begun by his predecessor to make the office more visible. That includes implementing a new communications strategy which includes being more open with, and accessible to, the media. Feeley intends to keep the public informed in a balanced manner "free from sensationalism or speculation".