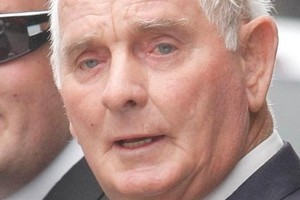 The man wrongfully convicted of killing Harvey and Jeannette Crewe is backing their only child's plea for police to reinvestigate the unsolved murders 40 years ago.
Arthur Allan Thomas, who spent nine years in prison before his royal pardon in 1979, said Rochelle Crewe's letter asking Police Commissioner Howard Broad to reopen the case was "absolutely brilliant".
Mr Broad said yesterday that he was considering reopening the homicide investigation.
Police union chief Greg O'Connor also wants the inquiry relaunched, saying the case has been a black mark against the force.
Ms Crewe, who was 18 months old when found in her cot five days after her parents were last seen alive, broke her silence in the Herald yesterday.
"In reopening the case, I am seeking truth and justice as to what happened during the original investigation and what really happened to my parents, Jeannette and Harvey Crewe."
Mr Thomas, who is on holiday in Australia, told the Herald he wanted to see justice done.
"Somebody murdered her parents. As far as I'm concerned, some bastard did that and it's more than one person."
Ms Crewe also criticised the decision of the Solicitor-General in the 1980s, Paul Neazor, QC, not to lay charges against detectives Bruce Hutton and Len Johnston after a royal commission found they had framed Mr Thomas by burying a shellcase from his rifle in the garden of the Crewes' farmhouse at Pukekawa, south of Auckland.
The Australian head of the 1980 commission, Justice Robert Taylor, said what they had done was "an unspeakable outrage".
Yesterday, Mr Thomas said he did not want to comment at length, but his son-in-law, William Rowe, said the family supported Ms Crewe's request.
"I think it is very telling - and it makes it very clear - that the only surviving direct victim of this tragedy holds our opinion that these officers need to be brought to justice as well," Mr Rowe said.
"We have never known what Rochelle's opinion of this was until now. She's the real victim in all of this. Arthur has been exonerated unquestionably by the commission, but she has not had any justice at all."
Yesterday, Mr Broad said it might be "a very long shot to expect that any other sort of court action might flow" from Ms Crewe's request.
"What's coming out is that there are a lot of unanswered questions about this case, and a lot of contested questions, and people are looking for answers. Whether or not it's possible to do that [reinvestigate], I'm not sure."
Mr O'Connor said the case had long been a black mark against the police.
"When you consider that my generation of police officers have had that thrown in our faces continuously ... maybe a properly conducted inquiry wouldn't be a bad idea."
Prime Minister John Key said it was unlikely that the Government would set up an independent investigation, but he did not rule it out.
Labour leader Phil Goff said the Government owed it to Ms Crewe to look at the evidence with a fresh pair of eyes.
"The rest of us can only really imagine the difficulties she has gone through and the trauma, given the events surrounding her parents' death, and her really strong desire to have the truth known."
Others calling for the case to be reopened include Peter Williams, QC, who represented Mr Thomas, and Crewe murder authors Pat Booth, Chris Birt and Ian Wishart.
The three writers have different theories on what happened in New Zealand's most enduring murder mystery.
Mr Thomas, who lived 13km from the Crewes, was famously pardoned in 1979 in response to mounting public protest and the personal intervention of Prime Minister Rob Muldoon.