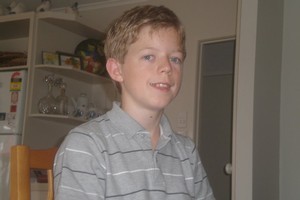 The Auckland King's College student who supplied James Webster with two bottles of spirits the night he died after binge drinking, can now be named.
James Barwell-Smith, now 18, who was a year older than James but in the same boarding house as him, had his name suppression lifted yesterday.
James Webster, 16, was found dead in a bed at a friend's house after he had been taken home from a birthday party, drunk, vomiting and semi-conscious on May 8. He died from acute alcohol poisoning.
James Barwell-Smith exercised his right of privilege not to disclose to the Coroner's inquest into James' death how he had acquired the alcohol and had previously refused to give a statement to police.
He told the inquest last week this was because he had been emotionally unstable following the death of his friend.
Asked why he had given James the alcohol, he replied: "I would do anything for my brother."
His lawyer Peter Davey argued that his client should not be named because it would cause him undue hardship at a time when he was already under a lot of stress with school exams. Name suppression was not granted but Mr Davey was able to extend an interim suppression order to give him the opportunity to have the decision reviewed.
Asked what he had learned from this experience, Mr Barwell-Smith said it had made him realise what a deadly poison alcohol was.
"Sometimes teenagers think these rules are stupid and there's no reason for them being there and unfortunately it takes something like that to open our eyes to what we are told every weekend, that it is a poison."
- NZPA