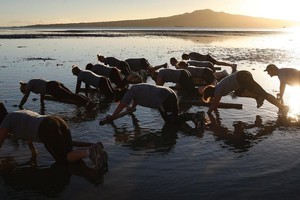 The first intake of young offenders have started training at the Government's new "boot camps".
The eight-week Military Activity Camps, tested over the past year, are designed to teach young offenders self-responsibility and discipline in a style comparable to that of an army camp.
From October 1, Youth Court judges have had the option of placing young offenders on nine different programmes from military-style activity camps to mentoring, parenting and alcohol and drug rehabilitation programmes under the Government's Fresh Start initiative.
The 10 attendees, with an average age of 16, rise at 6.30am, present themselves clean and in uniform and complete a day of structured activity including school classes, drills, chores, fitness activity, life skills and individual work.
Programmes are aimed at helping young people address the causes of offending with mentoring, literacy and numeracy skills and drug and alcohol rehabilitation.
Acting Social Development Minister Judith Collins said the Government was serious about dealing with this country's worst young offenders and that the programme was no holiday camp.
"We're holding serious and repeat young offenders to account with tougher sentences and we're working more intensively to address the causes of their offending to keep them out of jail," Ms Collins said.
- NZPA