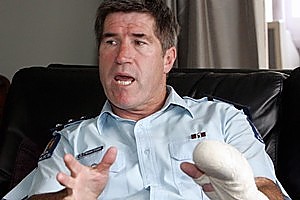 A 10-year-old boy says he would have died without the brave actions of an off-duty police officer who pulled him from a burning wreck.
Kawana Kemp was travelling in a van with five other people when it collided with a car near Taupo in April last year.
Police Inspector Mike O'Leary was travelling with his family when he came across the accident site, and he instantly sprung into action, pulling Kawana and his 2-year-old nephew Amethyst Lauano to safety.
Inspector O'Leary was this morning recognised with the inaugural Police Association Bravery Award, presented by Prime Minister John Key.
Kawana, who attended the award presentation with his sister and caregiver Fiona, 36, said he only remembered parts of the incident.
"Mike was trying to pull me out of the car. He's cool for saving my life and if he wasn't there I would have died."
He remembered being scared and Inspector O'Leary's bravery.
"Mike told me to roll around on the grass and then he just stomped off [the flames on] my pants, then he took me over by [Inspector O'Leary's son] Connor and Connor was putting water on me."
He was burnt from his waist to his ankles and is still receiving treatment, 18 months after the crash. Inspector O'Leary had serious burns to his left hand.
He said he was honoured to receive the award.
"At the time none of us saw our actions as being extraordinary. People needed help, we responded. We tried to do our best. Regrettably the fire and circumstances prevented us from doing more."
Mr Key called Mr O'Leary "a remarkable New Zealander".
"He really took an amazing risk that he was going to have the car explode, and he obviously suffered significant burns himself and that just didn't stop him."
Police Association president Greg O'Connor said the actions exemplified the highest ideals of policing.
"There is no doubt that, but for his actions, the two children trapped in the burning van would not have survived.
"Whether on or off duty, it is the unique role of police to step in and take charge in an emergency - to be the cool head when faced with danger, and protect the public to the best of their ability.
"Inspector Mike O'Leary's actions in rescuing the two children, despite fierce flames and at considerable risk to himself, demonstrated extraordinary bravery, above and beyond all reasonable expectations of a police officer performing his duty."