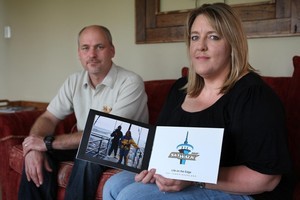 Viv and Richard Frost were over the moon about winning a trip to Kenya - until they found out it would cost them $6000 to get there.
The West Auckland couple won one of four prizes through a radio promotion in which Intrepid Travel was "giving away $20,000 worth of trips around the world".
The competition ran on The Edge and involved listeners getting clues on twitter.com to find globes hidden around Auckland.
Mrs Frost found a globe at the top of the Sky Tower but had to do a SkyJump to find out where she was going.
"I was nervous but excited, there was all the adrenalin. I did the SkyJump and they gave me the globe and said 'where are you going?' It said to Kenya.
"They said 'oh you're off to Kenya, yay'. That's how they promoted it on the radio."
It was only when details about the trip arrived in an email that they realised they had to pay for the airfares themselves.
"It said actually it's just a safari in Kenya and it didn't include airfares. I was so disappointed."
Mr Frost wrote to the Edge and Intrepid, saying the prize was advertised as a trip "to" not "in" another country and they didn't think it was fairly promoted. Mrs Frost said she would never have done the SkyJump had she known the airfares weren't included.
"To claim this $3000 prize we are going to have to spend almost $6000.
"We have got five kids, we just don't have that spare money to book a trip to Kenya to take a safari. It's like saying you have won a lunch in New York - if you can afford to get there."
Intrepid Travel's spokesman Joe Olds said some of the confusion may have stemmed from a typographical error in some of the promotional material which said it was a trip "to" instead of "in".
Mr Olds said he had apologised to Mr and Mrs Frost for the confusion and offered $500 towards the cost of the airfares.
The Edge programme director Leon Wratt said the station had received a formal complaint to the standards committee so the matter was now under review and he didn't want to comment further.