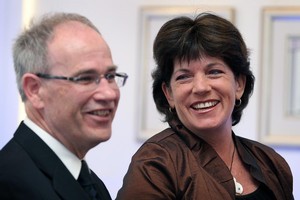 Auckland Mayor-elect Len Brown has chosen Penny Hulse as his deputy, a woman whom long-time associates call "an iron fist in a velvet glove".
Steel and determination are traits which Mrs Hulse has shown often as Deputy Mayor of Waitakere City for six of her 15 years on the council.
Colleagues says she is highly principled, judges every case on its merits and takes responsibility for council decisions, even those she argued against.
Strengths include a strong commitment to consulting communities, ability as a strategic thinker and, from her science background, understanding complex works projects.
Standing as an independent, she was the highest-polling candidate in the Waitakere ward.
A resident of Swanson, Mrs Hulse began community politics as a protester against a rubbish dump.
She pushed to get Parliament to protect the Waitakere Ranges Heritage Area and for regional funding for Project Twin Streams, a flood protection and conservation project that has mobilised 10,000 volunteers.
Only last year, the mother of two teenagers marched in the streets again.
This time it was to lead a protest against the Government's local government reforms, later modified to heed many concerns about loss of community influence.
Yesterday, when Mr Brown - with a kiss first - announced her role as No 2 in the Auckland Council, Mrs Hulse said "the Super City has come at us at a rush".
But she said the job was now to bring the region together and to reach out to the community.
"I could not do this job if I did not support and admire this man completely. We share the same vision for Auckland."
Mr Brown praised her for her "inclusive style and fairness" and potential to unite communities which were unsure how they would benefit from a super council and whether they would be cared for.
He said Mrs Hulse would have a "roving brief".
This means that, instead of being tied down with chairmanship of a committee responsible for one aspect, she can work across the council, attending any council business meetings and working closely with the mayoral office.
Mrs Hulse had a fine reference from Waitakere Mayor Bob Harvey, soon to become waterfront development boss.
"A wonderful negotiator for peace and working partnerships," is how he described her.
She was one of his deputies who "anchored me with great advice and mentored me through times of difficulty".
Mrs Hulse's old job was looking for problems on the horizon, building a council team, standing in for the globetrotting Mr Harvey and giving time and energy to understand the big problems.
But she was helped by a cohesive council which put politics and dogma aside to work as a team.
Citizens and Ratepayers co-leader Chris Fletcher said: "I wish her well and I realise the enormous task this will be: ceremonial, civic and attending committees ... It's a formidable task to support Len."
Mrs Fletcher, a former Mayor of Auckland City, said she had met Mrs Hulse but had not worked with her.
"I want to tell her that from a C&R perspective my door is open and I feel we can build up a good working relationship."
Janet Clews, a civic leader in West Auckland for 46 years, said Mrs Hulse had "backbone and she has real integrity too".
Voluntary welfare groups leader and Waitakere resident Tony Mayow said Mr Brown had made a brilliant choice. "She is grounded, with understanding of how communities work."
VETERAN
Penny Hulse, Deputy Mayor of the new Auckland Council:
* Currently Deputy Mayor of Waitakere City.
* 18 years of service on Waitakere local bodies.
* Married, mother of two teens.
* Lives in Swanson.