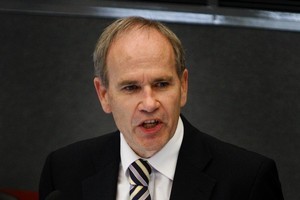 Super City Mayor-elect Len Brown will this week be briefed on a role for a proposed council Maori advisory board.
Mr Brown said yesterday through a spokesman that he was in full support of having such a board and acknowledged that establishing one was already provided for in the Super City legislation.
The spokesman said Mr Brown would be briefed fully in the next few days on the board proposal and therefore would be better fitted to talk about the specifics of what and who would be involved.
"Yes, he's always been supportive of this, but it's too early to make a comment - the people haven't been chosen yet," the spokesman said.
New deputy mayor Penny Hulse also backs having a Maori advisory board, which will be appointed by representatives of local iwi.
She said it was important to acknowledge the role of tangata whenua.
"The way forward needs to be worked through with Maori," she said. "We need to take advice from Maori leaders about how they want the board to be used."
Mrs Hulse acknowledged that having a special board to advise on Maori issues could at times be a mixed blessing. "It could be that the council use the board to avoid talking about a Maori issue. And that's not what it's about."
Meanwhile, Citizens and Ratepayers councillor Jami-Lee Ross - who is part-Maori - said that although he personally did not believe in having a Maori advisory board, it was important that the council now make the most of it.
Mr Ross, who has always opposed having designated Maori seats on the council, said he simply wanted everyone to be equal.
"Maori want the same for Auckland as the non-Maori want. They want Auckland to be prosperous and safe."
The councillor's comments come a day after a panel made up of well-known members of the Maori community criticised the idea of having such a board.
Broadcaster Scotty Morrison said he supported having designated Maori seats on the new Super City council and saw the Maori advisory board as "patronising".
The only way for Maori to ensure they were represented on the new council was to have dedicated Maori seats, he said.
Morrison was speaking at the Unitec Institute of Technology on Tuesday night at a forum looking at ensuring Maori were fairly represented in the new council. The panel also included the co-leader of the Green Party Metiria Turei.
Morrison acknowledged that although three of the elected councillors had Maori heritage - Alf Filipaina, Des Morrison and Mr Ross - he did not feel that any of them would truly represent the Maori community.
"I wouldn't have much confidence that these candidates will be a strong voice for Maori issues on the council."
Referring to the comments, Mr Ross - of Ngati Porou - said: "If there is a particular issue that iwi have, my doors are always open and you don't need to be Maori for me to listen.
"It doesn't matter what ethnic background or the colour of your skin - the doors are always open."