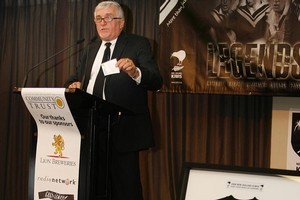 Rugby league is not just a game, it stays with you for life - the message behind a new charity set up by New Zealand Rugby League (NZRL) to help players and their families through financial or physical hardship.
League 4 Life, a charity aimed at raising funds for members of the league community most in need, was launched at the opening of the Kiwis' Four Nations campaign on Tuesday at Ellerslie Event Centre.
The event was hosted by league fanatic Sir Peter "The Mad Butcher" Leitch, with Kiwis coach Stephen Kearney as guest speaker.
Tickets to the launch and three-course meal - featuring appearances from the Kiwis squad and the Vodafone under-20 Warriors - cost $185 per person, with proceeds going to the League 4 Life Foundation.
NZRL CEO Jim Doyle said the charity had risen from dire need within the league community. "When I started this job a year ago I was quite surprised by the number of requests from league clubs for assistance from us.
"People wanted jerseys to raffle, or this and that, and I thought there was a genuine need for help, and league has always been the people's game.
"Charity needs to begin at home, so we began thinking of ways to help our loyal fans, players and families.
"We want to look after people from when they start playing at 5 and 6 until they are 106," Mr Doyle said.
Community programmes manager for NZRL Dain Guttenbiel said many recent situations had arisen where the need for such a charity had been highlighted.
Dennis Williams, who played 31 test matches for the Kiwis, had been injured in a serious car crash and NZRL would have liked to assist his young family financially but had been unable to do so.
Similarly, a young rugby league player was injured and his family wanted to purchase a wall-mounted TV so he could see it without moving. The cost was not covered by ACC, and NZRL was also unable to provide funding, Mr Guttenbiel said.
Sir Peter said League 4 Life would provide grants for rehabilitation, home equipment, fundraising events for clubs, and would also enable a social network for grassroots rugby league to interact and find support.
Primary sponsor Flight Centre had pledged $40,000 a year for the next three years, Mr Doyle said. Kearney said: "It's about preserving our league-loving community and looking after our own."