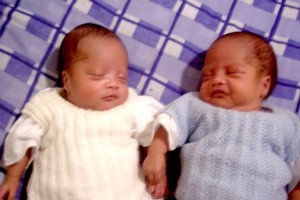 The aunt of three-month-old twins Chris and Cru Kahui asked not to be filmed during an inquest today because she feared for her family's safety.
Emily King, sister of the twins' mother, Macsyna King, was giving evidence in Auckland District Court at the coronial inquest into the 2006 deaths of the three-month-old babies, who died in hospital from severe head injuries.
Emily King asked not to be filmed by a television camera, and told coroner Garry Evans how her connection with the case had seriously affected her life.
She said she had received abusive texts and had had to move out of her house.
"I've had to tell my employer who I am and how this has affected me. This is about my nephews, and my children are my main concern," she said.
An order was made not to film Emily King, and a television cameraman was asked to leave the court.
When asked about Macsyna King's methamphetamine habit, her sister said she "did not want to be tainted with the same brush" as her.
Chris Wilkinson-Smith, lawyer for the twins' father, Chris Kahui, earlier today asked Stuart King, brother of Macsyna King, if she asked him not to speak to the police.
Mr King agreed and said he spent a lot of time with Macsyna King following the twins' deaths.
Marie Dyhrberg, representing Macsyna King, asked Mr King about how his sister felt when Mr Kahui did not go to the hospital where the twins were in a critical condition.
"You said in your police statement that the hurt and anger you saw on Macsyna's face when Chris didn't come to the hospital was like someone had taken her heart out and stomped on it," Ms Dyhrberg asked Mr King.
He agreed that was what he told police.
Yesterday, Mr King said Mr Kahui denied ever hurting them but wanted to hand himself into police following their deaths.
He told Mr Kahui to hand himself in only if "he'd done it", and it would not help matters if he had not done it.
Mr Kahui was found not guilty of their murders in a High Court trial in 2008, at which his lawyers said Macsyna King killed them.
She has denied she caused the injuries which led to the babies' deaths.
- NZPA