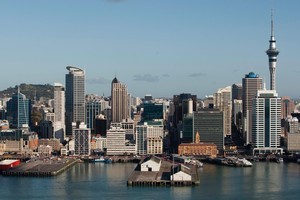 Aucklanders were yesterday urged to make their views heard on the biggest shake-up in 20 years of the laws shaping the city's planning and design.
Unveiling a discussion paper, Environment Minister Nick Smith said reform that enabled Auckland to grow was long overdue.
The present system was not giving the "right services at the right time".
Appearing on stage with Auckland Mayor-elect Len Brown, Dr Smith said the Resource Management Act was focused on the natural environment and barely mentioned urban issues such as subdivision, infrastructure and building limits.
It took so many years to consult and resolve appeals that plans were out of date by the time they took effect.
"Poor quality decisions over land planning have contributed to excessive section prices and adversely affected housing affordability. Reform is overdue."
"We need to work at pace because each week that goes by is one of lost opportunities."
Turning to Mr Brown, he said: "Unless we embark on these reforms I fear the plan for Auckland will be jammed up in the Environment Court for the next decade."
The Government wanted to take a stronger lead in urban design and collaborate in a robust plan for cities such as Auckland.
But Dr Smith said, reform need not compromise environmental integrity.
Before the elections, the region's eight councils were working on a first draft of the region's spatial plan - a blueprint to replace the 1999 regional growth strategy.
Spatial planning was an opportunity to integrate urban and infrastructure planning. Mr Brown preferred to call it "the Auckland plan".
It would reflect Auckland's "flat-out" growth and create a powerhouse economy to stand alongside Melbourne and Sydney.
"But the ability to achieve the Auckland plan will be guided by how well united we are behind one vision."
The public feedback form poses 23 questions on the options, and must be returned to the Ministry for the Environment by December 17.