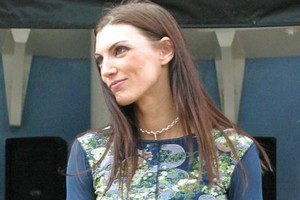 Michael Laws' estranged partner has revealed how she used to punch him in the face and became an alcoholic during the breakdown of their relationship.
Police have been called twice after Leonie Brookhammer, a former bodybuilder, beat him at their home in Wanganui - once in 2003 and once when their relationship ended in January this year.
In an interview in this week's Woman's Day magazine, she tells how there have been five or six incidents when she hit him in the face after a heated argument.
She told the magazine that when they broke up, he tried to stop her by hanging off her car telling her she could not leave.
"I told him to get out of the way or I would run him over. I inched closer and he fell to the ground."
Laws was controlling before they separated, Ms Brookhammer said.
"He would say, 'I'll teach you how to do the ironing because you can't do it properly. I'll bathe the children because you're not doing it right. I'm going to brush their teeth because I do it better."'
The couple share joint custody of their three children - 4-year-old Lucy and Zoe, and 2-year-old Theo.
Ms Brookhammer claimed Laws even threatened to kick out her son from a previous relationship for not doing his chores.
"One New Year's Eve Michael exploded because Noah hadn't taken the rubbish out and he screamed at my son to get out of the house."
In the interview, she said Laws used to insist on his bed being made in a certain way, and told her she was not thin enough.
"He talked about my weight in front of journalists, asking, 'Don't you think Leo needs to lose weight?"'
Ms Brookhammer said she then turned to drugs and alcohol "to cope with the stress of the relationship".
She checked herself into a rehabilitation centre earlier this year after forming a habit of drinking a bottle of wine a day and once taking six codeine tablets because she "wanted it to be all over".
Ms Brookhammer is now working as a waitress in Wanganui.
In response to the article, Laws last night said: "The only thing that I am prepared to say is that my sole priority is the love and upbringing of my children."
- STAFF REPORTER