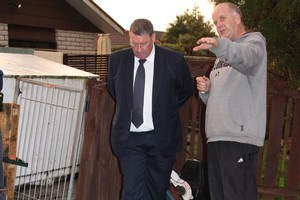 Bruce Lamb surely deserves some good news.
The Christchurch policeman of 32 years is among the thousands of Canterbury homeowners waiting to find out this week if their homes can stay or be rebuilt on earthquake-damaged land.
Mr Lamb lost his home to the September 7.1 magnitude quake, and nearly lost his life in July when he was shot through the jaw in a routine callout that turned into a confrontation with an armed man.
His police dog Gage was shot dead during the confrontation and fellow policeman Mitchel Alatalo was shot through the thigh. Mr Lamb revealed after the shooting that he thought he was going to die from his wound while he was being rushed to hospital.
He was on leave recuperating when the earthquake struck, churning up his concrete driveway, carving a deep crevasse through his yard and rendering his house of 25 years beyond repair, Police's Ten One magazine reported.
The doors inside the home collapsed, but he and his wife managed to escape unscathed and phone their children.
Not even the home of his new dog Mylo was spared. "He was in his kennel, which had fallen backwards into a hole. Needless to say, he's not fussed about going in his kennel any more - I have to physically put him in it."
Mr Lamb and his wife have been living in a rental home as they wait to hear from the Earthquake Commission whether they can rebuild.
A report by engineers has been given to the Government, which has stated that more than 98 per cent of quake-damaged land can be fixed and built on again. Prime Minister John Key said the report was expected to be made public by the end of this week.
"At first I thought of Gage and me being shot as one event. Now I prefer to think that I was one, Gage was another and the earthquake was a third - that way I've had my three," Mr Lamb said.
He hopes to return to work next month. Mr Alatalo is back at work on light duties.