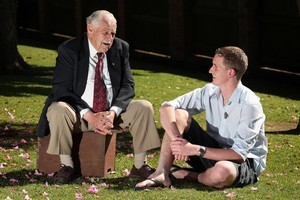 When Assid Corban was first elected to council his Henderson electorate was no more than a village, without a motorway to join it to the city.
"It was like an old county town," said the lifetime politician. "Gravel roads everywhere, and no social life. We had a picture theatre once but it burned down. So I ran for council to get Henderson moving."
Fifty-four years on, Mr Corban remains as keen on local politics as ever.
He was the oldest candidate to be elected to the Super City on Saturday.
The former mayor of Waitakere, 85, will sit on the Henderson-Massey Local Board. He is certain it will be his final term in politics after spending 45 years on-and-off in local government.
With his wife and personal secretary Miriam at his side, he door-knocked every home in Henderson in his first campaign.
"It was a personal campaign, a big job. But you could manage it. With none of this IT stuff like there is today."
Like his pioneer winemaking grandfather Assid Abraham Corban, he worked seven days a week for most of his life. His wife is still the only member of his campaign team, though he also has the backing of the local netball side, who he sends donations to.
The key to longevity in politics was getting along with everyone - "the best way to get rid of your enemies was to make friends with them".
ASSID CORBAN
* Henderson-Massey Local Board.
* Age: 85.
EXPERIENCE
* 27 years as councillor (Henderson Borough, Waitakere City Council).
* 18 years as mayor of Henderson Borough and Waitakere City.