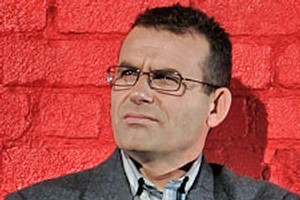 Suggestions of a golden handshake for broadcaster Paul Henry were raised by Labour in Parliament today, but Broadcasting Minister Jonathan Coleman maintains he is unaware of the parting terms and won't get involved in the issue.
Henry resigned from Television New Zealand at the weekend after he became the subject of several hundred complaints to the broadcaster over slurs he made about Governor-General Sir Anand Satyanand and his mocking of the name of Delhi Chief Minister Sheila Dikshit.
There has been speculation as to whether Henry's resignation was arranged alongside a parting payout and as to how much that might be.
Labour MP Clayton Cosgrove today sought an assurance that such a payment wouldn't impact on dividends to the Government from the state-owned broadcaster.
"Does the minister accept that TVNZ's dividend to the Government and its value are his responsibility, and can he guarantee that these have not been reduced in any way by any payment to Mr Henry over and above the statutory minimum requirements?" he asked.
Dr Coleman said he was not aware of any of the terms under which Henry was employed and that it would be "inappropriate" for him to seek such information.
Doing so would contravene the Television New Zealand Act and the Crown Entities Act, he said. "If TVNZ were to reveal this information to me, it might be in danger of contravening the Privacy Act and the Employment Relations Act."
Dr Coleman said he had given no directive to TVNZ in regard to a golden handshake.
He said when Labour was in power, former minister Steve Maharey had cited the same reasons as not wanting to talk about former TVNZ chief executive Ian Fraser's departure.
Prime Minister John Key was also questioned by Labour MP Maryan Street over whether he should have immediately defended Sir Anand when confronted by Henry's disparaging comments.
Mr Key said he had made it clear when questioned by media after appearing on the Breakfast programme that Henry's comments were "plain wrong and that the governor-general was doing a tremendous job".
He said he was not responsible for what came out of the mouth of Henry "or any of the other shock jocks who work in the broadcasting world".
- NZPA