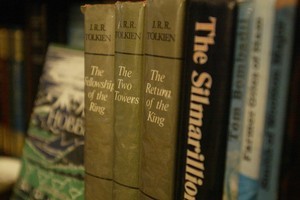 The end of the Hobbit films controversy may be in sight, with Prime Minister John Key indicating yesterday that he hoped to see the dispute resolved in the next week or so.
At his post-Cabinet press conference Mr Key said he understood Economic Development Minister Gerry Brownlee had met the various parties late last week.
"I wouldn't want to predict an outcome there but we are all hopeful that we will get the right result, and that is that those Hobbit movies are made in New Zealand," Mr Key said.
The New Zealand Actors' Equity union said at the weekend it was "hopeful" the row could be resolved.
That followed a Hollywood press report that the dispute over terms and conditions on the planned Hobbit films was close to being sorted out.
"We remain hopeful that a resolution can be reached," Equity organiser Frances Walsh said when asked to confirm the report, in the Los Angeles Times.
Council of Trade Unions president Helen Kelly declined to confirm the report but had met Sir Peter Jackson on Friday in an attempt to resolve the dispute over better employment terms and conditions for actors on his planned two-part adaptation of the J.R.R. Tolkien book.
"We are hopeful that a meaningful dialogue between [Actors'] Equity, Spada [the Screen Production and Development Association] and Three Foot Seven [Sir Peter's company] can be established," Ms Kelly said.
But despite widespread hope, a deal was still not guaranteed, Mr Key warned.
"They are still undergoing quite tense negotiations.
"It needs to be resolved reasonably quickly, one would hope within the next week or so."
On TVNZ's Breakfast yesterday morning, Mr Key said there may be a wider argument to be had but the Hobbit production should not be held to ransom.
"I would be greatly concerned if the Hobbit movies weren't made in New Zealand, this a $3 billion industry, it employs a lot of people, it's great for New Zealand, it's a great way for marketing New Zealand. If you can't make the Hobbit here, frankly what movies are you going to make here?"
- NZPA