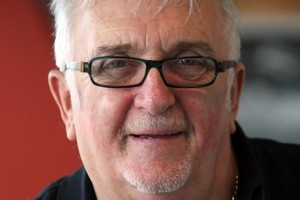 Sir Peter Leitch - better known as the Mad Butcher - got the chance to laugh and reflect last night, as he was honoured in the latest episode of This Is Your Life.
A mix of old friends, colleagues and acquaintances gathered to pay tribute to the man who is well known for starting his Mad Butcher chain of meat-retailing outlets.
In August, he was made a Knight Companion of the New Zealand Order of Merit for his services to business and philanthropy.
A fiery haka by Kiwis rugby league players including coach Stephen Kearney and Wests Tigers star Benji Marshall opened the programme, which was hosted by veteran broadcaster Paul Holmes.
Also there were league stars Monty Betham, Stacey Jones, Simon Mannering and Awen Guttenbeil.
Among the guests were Prime Minister John Key, who compared Sir Peter to an iceberg.
"The bits you see [are] really interesting - but the bit below the surface is incredible.
"And whether it's been in your business career or helping kids out or doing things for sport, you're just a quintessential Kiwi. I couldn't think of anyone better to make a knight."
Mr Key also joked that he had suggested to someone that Sir Peter be called Sir Mad Butcher.
"And he said, 'No, no, no. We're calling him sir-loin'."
Former Australian rugby league star Wally Lewis appeared and thanked Sir Peter, the Vodafone Warriors' number-one fan, for being a loyal friend from across the Tasman.
Sir Peter's wife, Lady Janice, and their two daughters, Angela and Julie, also appeared on the programme, paying tribute to "a generous and great dad".
"I was the only one at college who would go to parties and have my dad waiting to pick me up outside - at 11 o'clock," Angela laughed.
Sir Peter is the 37th New Zealander to be honoured on the show.