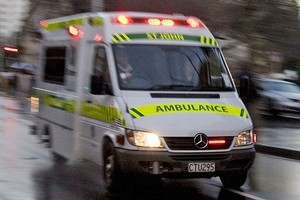 Two young brothers are being hailed as heroes after they rescued their dad from a DIY disaster.
Napier man Salvatore Pisoni was crawling around under the roof of his house yesterday morning doing a wiring job when he suffered an electric shock.
His sons, aged 10 and 14, heard their dad was in trouble and acted quickly, turning off the mains power and calling an ambulance. They stayed with him until emergency services arrived.
The incident came a week after his wife Tanya fractured her leg in three places falling off scaffolding. A St John Ambulance spokesperson said Pisoni's injuries were serious, with an electrical burn running across his body between his hand and neck.
He was rushed to Hawke's Bay Hospital then transferred to Lower Hutt for skin-graft surgery yesterday afternoon.
Fire fighter Darren Clark, who was one of the first on the scene, said Pisoni's sons did "everything right" and prevented the incident becoming significantly more serious.
Pisoni was choking back tears when he told the Herald on Sunday that his sons had saved his life.
"When I got the initial shock, I couldn't let go of the cable," he said.
"My hand was stuck on it, I fell on to my right side and got a second shock, hit my head and passed out."
Pisoni said he had taught his sons what to do in this situation and was humbled that they remembered everything.
But Clark said people needed to think twice before doing DIY electrical jobs. "You really need to get a qualified electrician in, for safety's sake. People are putting themselves in a lot of danger."