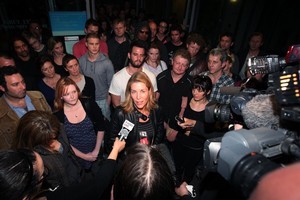 A Canadian actors' union has sided with its New Zealand counterparts in a dispute over employment terms on Peter Jackson's The Hobbit films.
Australian-based union Media, Entertainment and Arts Alliance is unhappy makers of The Hobbit have refused to enter into a union-negotiated agreement and advised members not to accept work on the proposed two-part feature film.
Sir Peter has blasted the union for damaging the New Zealand film industry, warning that studio backers Warner Brothers were considering taking the movie offshore, possibly to Eastern Europe.
Canada was also being considered as a possible alternative.
Canadian union ACTRA today issued a statement saying it was not prepared to deal with Sir Peter or the producer of the films unless all actors had a union-negotiated agreement, CBC News reported.
"Our message to the producers of The Hobbit is simple: You can't hide here in Canada," ACTRA national president Ferne Downey said.
"We hope that the producers will come to the table and provide union contracts to all performers."
Actors Equity NZ spokeswoman Frances Walsh today told NZPA she was "hopeful" the spat could be resolved.
Earlier this week, actor Sam Neill said the dispute could be resolved with a simple cup of tea.

"I am dismayed to read how serious and how unnecessarily charged this dispute has become over the last few days," he said in an email to the Otago Daily Times.
"We are seeing too much anger and hysteria all round and it doesn't help to have lots of people yelling from the sideline.
"Both parties, it seems to me, need to sit down, take a deep breath, and begin talking and - more importantly - listening, in the friendly and co-operative way we do things in the New Zealand film industry.
"Everyone wants to see The Hobbit made, so the sooner we see calm and sweet reason return the better.
"This is not hard. Shaking hands and a cup of tea should do it."
- NZPA