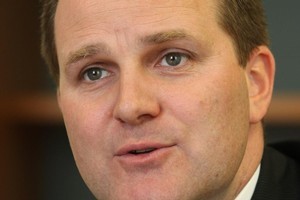 Name suppression rule changes may inadvertently end up protecting all parents convicted of assaulting their children because they would probably get name suppression by proxy, legal experts say.
Justice Minister Simon Power announced this week the Government's intention to change rules surrounding name suppression, including plans to extend the automatic name suppression to include all child victims under 18.
But the Law Society and the Law Commission say this would probably lead to name suppression for anyone charged under the controversial section 59 of the Crimes Act, which makes it illegal for parents to use force on their children for purposes of correction.
"If you automatically suppress all child victims of intrafamily offending, then by proxy it is probable for the defendant to have their name suppressed because it could lead to the identification of the victim," society president Jonathan Temm said.
"That is a very real outcome ... it's absolutely contrary to what the Government's trying to achieve."
Media Freedom Committee chairman Tim Murphy, who is editor of the Herald, said it would be an unjust, though unintentional, outcome.
"This is another example of the negative consequences of suppression. Any automatic suppression without flexibility or discretion can cause real injustice."
The Law Commission raised the issue in its report to the Government and suggested - and the Government agreed - allowing the publication of a defendant's name or the nature of the charge while still keeping name suppression for child victims.
A spokesman for Mr Power said a judge would still be able to allow the name of someone convicted of child assault to be published.
"[A] judge would have the same flexibility to suppress details other than the defendant's name, in order to protect the victim, and would apply that flexibility on a case-by-case basis."
But Mr Murphy said that would effectively make name suppression for the child victim redundant.
"Why suppress the name of a child who is the victim of criminal parental correction if you then say the perpetrator - often of the same name and always obviously tied to the victim - can be named?
"It either becomes a cone of silence over prosecuted child-smackers or is an empty gesture."
Since the amendment came into force in June 2007, police have recorded three prosecutions for "smacking".
One of the most high-profile cases was that of Christchurch musician Jimmy Mason, 51, who last year was convicted of punching his 4-year-old son in the face and grabbing him by the hair.
In November 2007, a Masterton man was convicted of heavily smacking his 8-year-old son three times on the buttocks. He was given permanent name suppression to protect the child's identity.
In the latest police review, covering six months to June, 416 child assault events were reviewed; 25 involved "smacking" and 38 involved "minor acts of physical discipline". Of the "smacking" cases, there was one prosecution.
The Law Commission also argued against extending automatic name suppression because the proposed test of undue hardship would be sufficient to protect vulnerable child victims. It said there were many cases where naming a child victim would not really make much difference.
"If a bike belonging to a 12-year-old is stolen, why should the name of the victim be automatically suppressed? There is no compelling reason to curb the principle of open justice in the case of all child victims."
Mr Power has said that this was outweighed by the need to protect vulnerable child victims.
CONE OF SILENCE
* The Government wants to grant automatic name suppression to all child victims under 18.
* This could lead to parents convicted of smacking their kids being granted name suppression also, as naming and shaming them could identify the child victim.