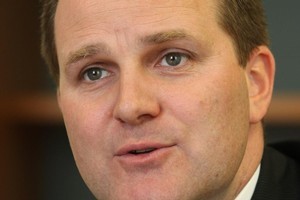 New Zealand's Media Freedom Committee has welcomed government proposals to tighten the criteria for name suppression, but has urged caution over the move to suppress automatically the names of child victims of crime.
Justice Minister Simon Power announced today the proposals, which include harsher penalties for suppression breaches. The proposals are in response to a Law Commission report and changes will be included in a bill to be introduced to Parliament before the end of the year. Labour has already indicated its support.
The Media Freedom Committee, which represents the country's major newspapers, television and radio networks and magazines, said it provisionally welcomed the proposals, but there were some that needed further thought. It said it looked forward to taking part in the select committee process.
Committee chairman Tim Murphy, editor of the Herald, said setting out in law the reasons why a judge could grant suppression was a positive step.
Judges, justices of the peace and community magistrates had often taken the broadest possible view on whether someone appearing before them should qualify for suppression, he said.
"For too long, some types of defendant have received the protection of name suppression after spurious claims of harm to themselves, their careers or to ailing elderly relatives, should their names be known publicly."
Mr Power said that up until now, child victims have not been protected by automatic name suppression, while child witnesses and victims of specified sexual offences have. "Child victims will also receive automatic name suppression, while automatic suppression for child witnesses will be increased from 17 to 18 years of age," Mr Power said.
But Mr Murphy said that move needed careful thought.
"This could create a whole class of victim whose story can never be told to the public. On the face of it, a teenager whose life may be ruined by a crash caused by a drunk driver, would never be known to the public.
"And while government officials believe the names of deceased children such as Nia Glassie or Augustine Borrell, the teenager fatally knifed on an Auckland street, would not be suppressed, they have not yet ruled that out.
"The lessons for society from their experiences would be much diminished by the very anonymity of the victim."
The Government proposes doubling the maximum term for individuals who breach suppression orders from three months prison to six months. Judges will also be able to impose a fine of their discretion in lieu of imprisonment if the circumstances warrant it. The current maximum fine is $1000.
For organisations, the maximum fine would rise from $5000 to $100,000.
Under the proposals, suppression would only be allowed:-
* when there was a real risk of prejudice to a fair trial;
* when publication would identify another person, such as a victim, whose name is suppressed;
* when publication would endanger a person's safety;
* when publication would cast suspicion on other people that may result in undue hardship;
* to prevent extreme hardship to the accused or people connected to the accused;
* where publication would imperil ongoing investigations.
Labour leader Phil Goff said he didn't think name suppression should protect the rich and powerful, as had occurred sometimes.
"The fact that you might be a lawyer and you've stolen some dead child's identity should not be a reason to get name suppression. There is absolutely some irony there," he said, referring to the Act MP David Garrett affair.
- NZPA,