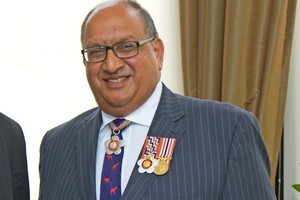 A longtime friend of Sir Anand Satyanand and his family says he is as Kiwi as anyone.
"India's not their country - they probably need a visa to get there," said Saty Satyanand, who is distantly related to the family.
He said Sir Anand and his brother Vijay were "truly Kiwi" and grew up doing regular Kiwi things. "I would regularly visit them at their [Glen Innes] home and quite often we would go out and watch sports."
He and the Satyanand brothers would go to football games and cricket matches, at Eden Park, with their father.
Sir Anand's father, Mutyala, was the medical doctor for a cricket team and would get free tickets to their matches.
"His father was born in Fiji before coming to New Zealand, where he married. But those boys, Anand and Vijay, this is their home. They don't know any other country."
Mr Satyanand said there was no right answer to what made a true New Zealander, as there were Kiwis from all cultures.
"When you talk about [being a] true Kiwi, what is a true New Zealander? Is it a European or a Maori? Or if you join the army, or what? What does 'look like a New Zealander' mean?"
Earlier yesterday, Breakfast tech commentator Ben Gracewood quit the show. Gracewood, who had a regular slot reviewing gadgets on the programme, said it was "the final straw".
"I don't want to make too big a deal of it, but I can't work with him," he said.
"I grew up in South Auckland, I believe in a multi-cultural society."
Immigrant and union organiser Joe Carolan called on people to join him in picketing TVNZ's Auckland offices at 5pm today to demand Henry be sacked.
"Paul Henry is a racist. His large salary is paid for by us, the working taxpayers," Mr Carolan said.
"Public-sector broadcasting should have zero tolerance for racism. It's time for TVNZ to sack Paul Henry."