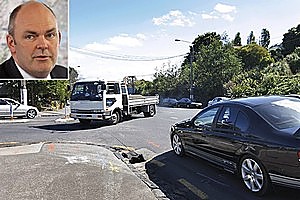 Why on earth are we changing the rule of giving way to the car turning right? And don't give me the excuse that most of the world does it differently so we should follow suit. If we blindly followed what most countries do, we'd all be driving on the right as well.
Giving way to the car turning right makes perfect sense to me. It's much easier for a car to whip around to its left than it is for a car turning right to cross traffic.
Without the rule, how the hell are the residents of Mission Bay and St Heliers, for example, going to access their streets?
Driving back from the city in rush-hour traffic, they are going to want to turn right at some stage. Let's face it, they can't turn left.
On streets that aren't governed by traffic lights, they're going to sit in the middle of the road and hope against hope that some kind soul heading west will feel inclined to halt and let them cross.
In this country and in this city, finding motorists willing to do that on a daily basis is going to be a big ask. Glaciers will melt, continents will drift and still the poor schmuck wanting to turn right will wait.
Because everyone in this town thinks their right to be on the road trumps that of all other road users.
Pedestrians can scatter, cyclists are targeted, and other motorists are just there to piss off everyone else. Aucklanders assume the road rules are for other people. Not them.
Just ask the streaked blonde in the Volvo 4WD who was ahead of me at the lights at the bottom of Franklin Rd.
A big sign directly opposite the lights said in bold letters: "No U-turn into Union Street". Pretty clear to everyone. It's foolhardy and downright dangerous to attempt the manoeuvre.
If you do a U-turn, the car following could crash into you. Especially if they're not expecting you to do a U-turn because they assume that a) you can read and b) that you're not a completely arrogant arse. Wrong.
The streaked blonde knows that rules are only for the little people, not for important women who are running late for Pilates appointments and who are trying to make lunch with the girls, fit in a Botox injection and pick up Mimi from Montessori - all before 3pm. Or whatever it was the silly tart was doing.
She wrenched her bitch box into a U-ey in a screech of self importance, leaving us lesser mortals to brake furiously and toot our horns impotently.
Can you imagine a wench like that coming to a halt and letting the poor right-hand-turner cross? It's simply not going to happen.
The reason that New Zealand is considered a nation of appalling drivers is not just because of our dreadful roads and our young driving age. It's because however nice we might be outside our cars, put us behind the wheel and we turn into arrogant, impatient monsters.
One of my older callers said she didn't care what the rules said, she'd continue to drive the way she wanted. And that makes her no different to every other driver on the road.