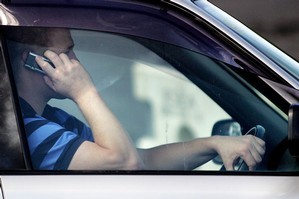 Using cellphones while driving is just "dumber than dumb" and more education is needed to drive the point home, a motoring affairs spokesman says.
The Automobile Association's motoring affairs spokesman Mike Noon made the comments today in response to a United States study which showed banning cellphone use while driving was counter-productive and encouraged covert behaviour behind the wheel.
The study from the non-profit Highway Loss Data Institute said it found no reduction in crash claims after bans on texting while driving went into effect in four US states, AFP reported.
Drivers actually engaged in riskier behaviour by covertly texting behind the wheel, the study found.
"This behaviour is dumber than dumb," Mr Noon said.
The US study called into question the way policy makers were addressing the problem of distracted driving and Mr Noon agreed.
It was not enough just to make something illegal. More education was needed so people understood that they should not use cellphones just to avoid the fine but because it simply was more dangerous, he told NZPA.
Mr Noon advised those that could not resist checking a text to put their phone in the boot or to turn it off while driving.
"People haven't got the message that it's not safe, they often think of the fine not the risk of crashing.
"It is like seatbelts - we don't wear them to avoid a fine, we wear them to keep us safe because we realise the risks if we don't."
A Road Safety Trust spokesman said the number of people that admitted to using hand-held phones had started to decline but it was not clear if that was a reflection of the law change or people not admitting their use.
- NZPA