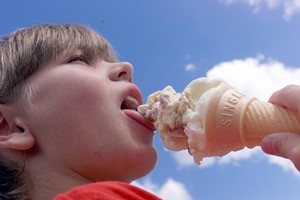 We accuse the Aussies of stealing the pavlova. But could it be (whisper this!) that it's we who are the food thieves?
As Kiwi kai steps on to the world stage with the opening of New Zealand-themed restaurants from London to Istanbul to Kuwait to Shanghai, the question is posed: What defines New Zealand cuisine?
It's not garlic and frog legs. It ain't curries. We're not known for chucking another prawn on the barbie.
Some of our favourite dishes are simply not Kiwi. The English invented fish and chips, even if New Zealand dramatically improved on them. The Belgians are known for steaming mussels.
So what, then, is Kiwi kai?
Ask a food critic or a chef, and they'll talk about the fresh ingredients, cooked with a light touch, gently stirring together the influences of hundreds of years of immigrants from around the world. Beef, lamb and seafood dominate our Asian-infused, Pacific Rim cuisine, says Herald on Sunday restaurant critic Peter Calder.
"But," he asks, "if I lived away from New Zealand for a year, what would I be hankering after when I got home? I couldn't wait to get my teeth around a mince and cheese pie, or a hokey pokey icecream."
Masterchef New Zealand judge Simon Gault, the owner of Euro restaurant, agrees it is too early to call Kiwi food a "cuisine" until we've had time to catch up to the countries that have been shaping their culture for hundreds of years.
Making something that is "New Zealand" comes down to how good the chef is. "We have some unique ingredients that are very good, and that's the one thing we have, but we are globally influenced from there on in," says Gault.
"We have good New Zealand produce so we can create something that is unique to New Zealand, like green-lipped mussels, for example. But then the French might argue that their mussels are better."
Anita Sarginson, president of the New Zealand Chef Association, believes we produce some of the best ingredients in the world, revered worldwide: scallops, Bluff oysters, fish, and of course our wines.
"We are great imitators - it is the sincerest form of flattery. In short, we have borrowed the best and put our own spin on it."
Being such a young country has allowed us to "pickpocket" the best bits from our past, she says. This includes taking indigenous food and the best of the South Pacific, influenced with the rite of passage that is the OE.
"Kiwi cuisine is as much about the way we eat as what we eat - Friday night fish and chips, the weekend barbecue with friends ... and having well-crafted food that is not too fussy or tortured."
Our foodies appear to be at odds over what constitutes the best Kiwi food, but a few classics spring to mind.
Sarginson says that controversial old favourite - the pavlova - stands out as her favourite Kiwi dish. "It evokes feelings of a time that has not gone past New Zealanders, a hint of white fluffy nostalgia, and the fact that it can also provide you with a timeless winning debate against an Aussie - it has to be a winner."
Gault suggests chefs could put West Coast whitebait on their menus if they want a distinctively Kiwi dish.
And Rose Young, who helped curate Auckland Museum's Kai to Pie exhibition this month, says the tinned Tiki Toheroa Soup is an absolute classic.
The shellfish soup had factories dedicated to producing it in the 1950s, and the museum describes the unassuming tin can as the "haute couture" of soups. Internationally recognised, the soup was served to Winston Churchill and at the 24 Battalion Christmas dinner in Forli, Italy, during World War II.
Churchill once said: "My idea of a good dinner is, first to have good food, then discuss good food."
So, let the discussion begin: Again ... what is Kiwi kai?