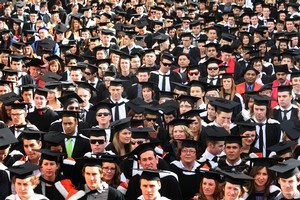 A whistle-blowing service has been launched to report crime and fraud at private training courses aimed mainly at overseas students.
The Qualifications Authority has announced that students, staff or the public with serious allegations can call the Crimestoppers service anonymously on 0800 INFORM (0800 46 36 76).
Training leaders described the move this week as a good first step but questioned whether it would make much impact on growing concerns about alleged abuses in the sector.
The permits of 200 students at the Kingsland Institute in Auckland are under review after two staff were charged with immigration fraud in July. In the past year, the authority has also deregistered three private training institutes over fraudulent qualifications.
The New Zealand Academy of Studies was caught selling a business diploma for $12,000 on the TV programme Illegal New Zealand and a related school, City Language Academy, was deregistered for falsely advertising that it offered NZQA-approved courses.
In February the API Institute of Education was closed after an investigation revealed that failing students were awarded pass marks and diplomas by administrative staff. Some students with E grades were given A-grade students' papers to copy.
Former API principal Gill Franklin, who reported the scam to NZQA, said she thought the anonymous phone line was a good idea but fraud was hard to detect in the $2 billion-a-year export education industry.
"I think a lot of providers have asked NZQA and Immigration to please do something. It takes a huge amount of time and money to investigate these things.
"I think when the stakes are high people do look for ways that are not ethical or legal to keep their business running. One of the problems is that there are not enough students and not enough money per student to run things profitably."
The academic director of AIS St Helens, Mike Roberts, who has reported previous rule breaches, said he was sceptical that anything would change because NZQA did not investigate rigorously enough.