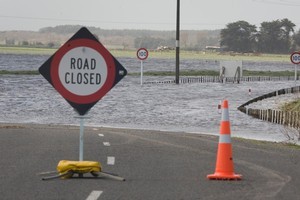 The stormy spring weather that has pummelled much of New Zealand over the last week is starting to abate and most of the North Island should be back to full power later today.
While gale force winds continued to reach as far north as Auckland this afternoon, yesterday's violent and damaging gusts eased.
Yesterday's 100km/h gusts in Auckland had eased to 70km/h and forecaster WeatherWatch.co.nz predicted the winds would slowly ease from the north over the next few days - meaning a fairly positive forecast for the North Island and eastern areas of both islands.
"We're not out of the woods yet though - Southland is still being hit hardest today with gale force westerlies and gusts to 85km/h," said head weather analyst Philip Duncan.
It was not warm either. Invercargill recorded a temperature of just 5degC this afternoon, he said.
Last weekend's storm changed the weather pattern over New Zealand, Mr Duncan said.
"Like an injury to the body the storm last week caused the stormy roaring 40s to swell up over New Zealand. With that storm now long gone it's taking a few days for the swelling to come down, but we are seeing those isobars drifting back towards the Southern Ocean where they should lie."
Last night's storm front blew down trees and other debris into overhead lines, said Powerco network operations manager Phil Marsh.
Around 6500 customers in Whangamata on the Coromandel Peninsula and at Waitotara near Wanganui were this afternoon without electricity.
With weather improving, the company expected to complete repairs to all homes without power by the end of today, after earlier restoring supply to the majority of affected customers in Taranaki, Wanganui, Manawatu, western Bay of Plenty and Rangitikei.
Meanwhile, MetService forecaster Andy Downs said yet another front was forecast to cross the South Island on Friday and the lower North Island on Saturday morning - bringing further west to northwest gales to exposed eastern parts of the South Island and lower North Island.
The strongest winds, gusting up to 120km/h, were expected about inland Canterbury, Marlborough, northern Wellington, Wairarapa and Hawke's Bay south of Napier.
Westerly winds were also likely to rise to gale for a time in coastal Southland and parts of Otago during Friday morning and afternoon and about parts of Nelson west of Motueka tomorrow afternoon and evening.
The combination of strong winds and cold rain over parts of Southland and South Otago was likely to put further stress on livestock, especially new born lambs and calves, Mr Downs said.
Southland and South Otago farmers are struggling from a week of snow on lowland farms in the middle of lambing and Agriculture Minister David Carter today declared a medium-level adverse event in the area.
A full heavy rain warning had also been issued for the South Island's West Coast ranges.
A period of heavy rain is also expected about the ranges of Fiordland, Westland and Buller during Friday with 60mm to 100mm falling during a 12-hour period.
- NZPA