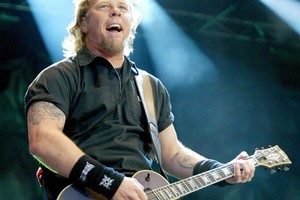 Canterbury residents might want the shaking to stop, but Christchurch bogans are hoping to be rocked by Metallica tonight and tomorrow.
The veteran metallers have landed in Christchurch ahead of two sold-out shows at the CBS Canterbury Arena.
The Christchurch shows only came about following an online petition from Christchurch mother Andrea Grom begging Metallica to play there. A second show was added after the first show sold out in under 30 minutes.
The American four piece will be joined by Fear Factory and The Swords.
Fans have expressed their excitement on Twitter ahead of the shows.
"Chch is alive and full of bogans in black waitn 4 Metallica!" Chandy229 posted.
Dozens of tickets are being sold online by fans unable to go to either gig for far less than the $179.90 they were purchased for.
Because of the size of the venue, Metallica will not be bringing their World Magnetic 360 stage show, but will instead play a "club style" show.
The CBS Canterbury Arena came through the September 4 earthquake unscathed, and Metallica last week told fans they were determined to still come to the city, despite the 7.1 magnitude quake and ongoing aftershocks.
The band posted on their website following the earthquake their "hearts go out to those of you affected by this major tremor".
"What we can and will do is what we always do - come and play, give 110 per cent, and 'rock the house' (!!) in our own unique way for the two nights we're in Christchurch," the message said.
Promoter Michael Coppel gave away about 300 tickets to student volunteers and emergency services to attend the concert.
Christchurch and Canterbury Tourism's chief executive Ian Hay said almost all the hotels, motels and backpackers in the central city were back up and running since the quake, and most were full over the next couple of days.
"Our expectation is a lot of people have come in to town for the concerts, as well as to help with reconstruction efforts," Mr Hay said.
"It is really positive for Christchurch to have the concerts and it's good for the community too."
Doors for the two concerts open at 7pm.