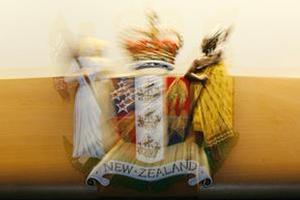 A Chinese student accused of stabbing a woman to death and putting her body in a suitcase following a dispute over money was "shy and didn't say much", a jury was told today.
Peng Cheng Tian, 25, from the North Shore suburb of Hillcrest, is on trial in the High Court at Auckland for the murder of Yi Ren, 30, at an inner city Auckland apartment in September 2008.
The prosecution alleged that Tian, who was a friend of Ms Ren and her boyfriend, stabbed her to death at her Newton apartment after their relationship soured over a business deal involving a car.
In the process of the attack he severely cut his left hand with the knife. He then placed her body in a suitcase before calling 111.
Tian's lawyer, Paul Davison QC, chose not to make an opening statement when the trial started last week.
Ms Ren's boyfriend Wei He, also known as Vincent, was overseas in China when his girlfriend, also known as Tina, was stabbed to death.
He told the jury he became friends with Tian after they met in the same language school in the Auckland suburb of Newmarket in 2001.
Mr He said Tian was quite shy, and he didn't talk much.
"Me and my girlfriend used to treat him like a younger brother. We both wanted him to know more people as we didn't want him to be so shy," Mr He said.
In 2008 Mr He and Tian became involved with a car deal which went wrong after the cars they decided to buy from Singapore never arrived in New Zealand, the jury was told.
They had arranged to buy a Lexus and a Peugeot car from a car dealer in Singapore. They paid $4500 each as a deposit for the cars, but the Lexus was apparently damaged at the port in Singapore and the Peugeot was sent to another country.
The phone call Tian made to the operator Kerin Thimbleby was played to the jury this morning.
Tian called 111 at 3.45pm and told the operator there was "a big huge problem" saying he was guilty of killing a girl.
He gave Ms Ren's name and said he had stabbed her in the neck.
He said he didn't know if she was still bleeding and told the operator he had put her in a suitcase.
When asked why she had put her in a suitcase, he said she owed him money.
He also told the operator he had almost severed his own thumb during the stabbing and was bleeding heavily.
Tian told the operator "I'm so sorry".
The operator asked him if he cut her once or more than once. He told her "more than once".
He also told her he had taken off most of his clothes because they were covered in blood.
- NZPA