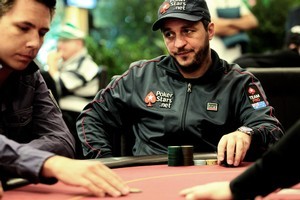 The godfather of Kiwi hip-hop has a hidden talent up his sleeve - poker.
Brotha D, also known as Danny Leaoasavaii and founder of record label Dawn Raid Entertainment, leads the field for today's final round of the SkyCity Festival of Poker, which has a first prize of $170,000.
The four-day tournament has attracted more than 200 entries from 20 countries and has a prize pool of $654,000. The field has been whittled down to nine players.
Leaoasavaii has had moderate success in the poker world after winning back-to-back Asia Pacific Poker Tournament celebrity invitational titles.
He is joined by other international poker stars who came to New Zealand to compete, including Australian professional Tony Hachem.
Hachem was knocked out in preliminary rounds late on Friday. He said tournaments like this were gruelling.
"These types of tournaments are marathons. You have to be fit physically and mentally if you want to succeed. It's survival."
Hachem said poker was unlike any other sport. "The average Joe can come into an international tournament and sit next to a world champion and get to play with a world champion. Anyone can play and anyone can win."
Hachem's advice for those wanting to play tournament poker was to watch and get to know your opponents.
"For any beginners my advice is to concentrate on their table and their table only. There was a famous song written by Kenny Rogers: 'You've got to know when to hold 'em'. That's guaranteed," he said.