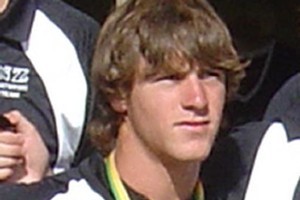 A top Kiwi waterskier who was arrested over the death of an 11-year-old British girl described how he "heard a thud" and saw her helmet bobbing up from under the water, a London inquest heard.
Tauranga man Matt Gibson, 22, was driving the speedboat that allegedly crushed Mari-Simon Cronje after she fell off an inflatable banana he was towing at a west London waterpark last week.
The girl, the daughter of millionaire ex-pat South Africans, was raced to hospital but died of severe leg injuries.
Gibson was arrested on suspicion of manslaughter and has been released on police bail.
His grandfather, Murray Gibson, said Matt was distraught over the crash.
He was being supported by his parents Geoff and Trudy, and sister Emma, who were on working holidays in the United Kingdom.
Murray Gibson said he was concerned that his grandson may be outgunned in court by the girl's wealthy family.
He said: "They say that the child's father is a millionaire and he will get a top lawyer. It is a worry because he is a long way from home. But at least he has the support of his family over there."
He said Gibson was a "very experienced" boater who always observed safe practise.
He said: "I don't know what's going to happen over all of this. He was arrested straight away but then let go.
"He is a very intelligent person, whatever he does he does well. I just hope they can see some light at the end of the tunnel."
Gibson, a former University of Waikato student, competed at the World University Water Skiing Championships in China in 2008.
Scotland Yard officers are looking into whether the park properly performed its health and safety duties, and whether these were good enough.
The West London Coroners' Court inquest, which opened on Thursday, heard that Cronje was at a birthday party with friends at the Princes Club in Bedfont.
Children were given safety advice on helmets and life jackets, and shown an instructional video before being allowed on the boat.
Detective Chief Inspector Howard Groves told the inquest that one of the parents watching realised someone had fallen off, assuming initially the driver would pick her up and carry on as before.
"But it became apparent very quickly that the driver wasn't aware she had fallen off. They were trying to beckon to him as best they could, that she had fallen off and something was terribly wrong.
"They were also trying to get the victim to swim away because she was right in line with the boat. She may not have heard or may have frozen.
"By the time he realised, the driver had hit the victim. He said he just heard a thud then realised. A helmet then bobbed up from under the water. Obviously something terrible had gone wrong."